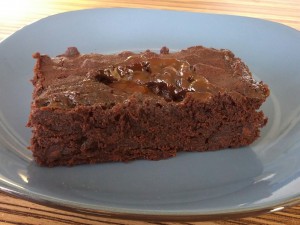 I love chocolate AND salted caramel. I love the combination of salty and sweet, as I've written about this in my Beer Batter Maple Bacon Cupcake Post before, I won't go into more detail here. Chocolate and salted caramel is a fancy and also very popular combination yet hard to top. I remembered the delicious cookies with salt and caramel and thought to myself, that the same flavour could fit into one tray of brownies. My first impulse was to just make brownies and top it with salted caramel sauce. But that sounded too lame, so I searched for some directions online and that gave me another idea of how to realise it. These brownies are very chocolatey, not too sweet and the salted caramel completes this treat. Sorry for the basic photo, I had to take the phone to capture this beauty before the office mates ate them all up.
For the French salted caramel sauce:
140 g sugar, equally divided in 3 parts
60 g cream
100 g salted french butter, diced (if you don't have salted butter at hand, 1/2 tsp flaky seasalt will do the trick)
In a saucepan over medium heat melt a third of the sugar. Once it is dissolved add another third of the sugar, wait until melted and then add the last third. Now let the sugar go into a nice caramel brown colour before you add the cream. Once the cream is in your saucepan, keep stiring to prevent chunks. Turn up the heat and check the temperature of your mixture, it has to go up to 108°C. When temperature is reached, remove from heat and add the diced butter to melt in your caramel. One little insider tip: I put the sugar in 3 bowls of same shape and size and the cream in another type of bowl. The reason for this is: when being impatient you don't happen to add the cream before all sugar is in the saucepan… And yes, that happened to me before…
For the brownies:
125 g dark chocolate
125 g butter
2 eggs
125 g sugar
1 tsp vanilla extract
125 ml cream
125g flour
50 g cocoa powder
200 g dark chocolate chunks
1 tsp flaky seasalt
Preheat the oven to 175°C with fan and line a 9″ square cake tin with baking parchment. Melt the 125g dark chocolate in the microwave in short intervals or in a pot simmering over hot water. Don't overheat and don't burn the chocolate. Melt the butter in dices in the warm chocolate and set to side until it has reached room temperature. Beat the eggs until really fluffy and gradually add the sugar, keep beating until it turns much paler in colour. Carefully stir in the molten chocolate-butter without breaking the fluff. Now combine cream and vanilla extract in a jug. Sift flour and cocoa powder and mix together. Add a third of the flour-cocoa-mixture to your batter and mix to combine, afterwards add half of the cream and so on. You should always end with flour because it is better for the consistency of your cake. If you add too much flour before the mixture is moist enough, it'll be too crumbly and those crumbles won't go away. Last fold in the chocolate chunks.
Spread half of the batter in your pan and top with a few spoons of caramel sauce. On top spoon the rest of your brownie mixture and again scoop generously caramel sauce on top, swirling it a little with a knife. I didn't use all the sauce, you can use the rest of the sauce to top your cooled brownies when serving. Sprinkle a little flaky seasalt over them and bake in the oven for 20-30 minutes, better check in between that the caramel on top doesn't burn. I had to put it in the lowest rack of the oven after 10 minutes and reduced the temperature slightly. Cool the brownies on a wire rack and serve with salted caramel sauce.