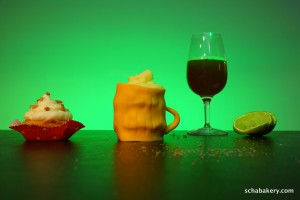 We're on the verge of St. Patrick's Day and as my heart beats for the Irish, I couldn't possibly let this day arrive without providing you with a goodie. #GoGreen4PatricksDay!
While on my last trip to Dublin in December a new cool bar opened where I live: The Maltbar offers a large variety of Single Malts as well as Craft Beers, alongside with some fancy cocktails including those (and other) ingredients. The one cocktail that caught my attention was the Caibeerinha and I had to try it, because it sounds like a really weird combination. It's actually a nice combination of a rather hoppy IPA with a fresh  and tangy finish. After sitting in the bar and brainstorming on new recipes for the blog, this idea of a craft beer flavoured cupcake got stuck in my head. So if you're tired of making the same old Guinness Chocolate Cake over and over again, why not try these little bad ass craft beer cocktail cupcakes for a change? I used Braukunstkeller's Amarsi IPA, as it is used at Maltbar and with it's strong hoppy flavour & the bitter citrus aroma it perfectly goes together with lime and brown sugar. If you can't get hands on this one, go for an IPA that also uses Amarillo and Simcoe hop for the strong flavours. I remember the 8 Degrees Brewing's Howling Gale Ale to be quite similar but less bitter, so if you want to mild the hoppy bitterness I would give this one a shot.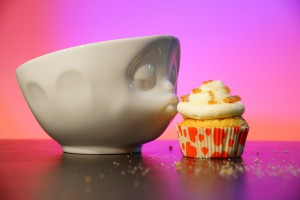 And as summer kisses craftbeer in this recipe, this cute little bowl 58products, inventors of the famous TASSEN, provided kisses the cake. And the luck of the Irish seemed to be with me as they announced -drummroll please- that I am among the winners of their #kissthecake competition. I am flattered and super happy. I had so much fun playing around with the kissing bowl, the cupcakes and the light. And I must admit this bowl is just cuteness overflow and I am happy that it'll get some company real soon!