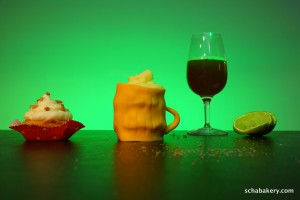 We're on the verge of St. Patrick's Day and as my heart beats for the Irish, I couldn't possibly let this day arrive without providing you with a goodie. #GoGreen4PatricksDay!
While on my last trip to Dublin in December a new cool bar opened where I live: The Maltbar offers a large variety of Single Malts as well as Craft Beers, alongside with some fancy cocktails including those (and other) ingredients. The one cocktail that caught my attention was the Caibeerinha and I had to try it, because it sounds like a really weird combination. It's actually a nice combination of a rather hoppy IPA with a fresh  and tangy finish. After sitting in the bar and brainstorming on new recipes for the blog, this idea of a craft beer flavoured cupcake got stuck in my head. So if you're tired of making the same old Guinness Chocolate Cake over and over again, why not try these little bad ass craft beer cocktail cupcakes for a change? I used Braukunstkeller's Amarsi IPA, as it is used at Maltbar and with it's strong hoppy flavour & the bitter citrus aroma it perfectly goes together with lime and brown sugar. If you can't get hands on this one, go for an IPA that also uses Amarillo and Simcoe hop for the strong flavours. I remember the 8 Degrees Brewing's Howling Gale Ale to be quite similar but less bitter, so if you want to mild the hoppy bitterness I would give this one a shot.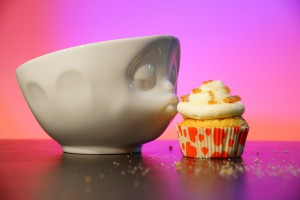 And as summer kisses craftbeer in this recipe, this cute little bowl 58products, inventors of the famous TASSEN, provided kisses the cake. And the luck of the Irish seemed to be with me as they announced -drummroll please- that I am among the winners of their #kissthecake competition. I am flattered and super happy. I had so much fun playing around with the kissing bowl, the cupcakes and the light. And I must admit this bowl is just cuteness overflow and I am happy that it'll get some company real soon!
For 16-18 Cupcakes: 
110 g butter at room temperature
225 g golden caster sugar
2 eggs
275 g flour
1 tsp baking powder
pinch of salt
125 ml IPA (I used Braukunstkeller Amarsi IPA)
Preheat the oven to 170°C with fan and line muffin tins with paper liners. Cream the butter together with the sugar until much paler in colour before adding the eggs. Whisk until the mixture resembles a light and fluffy batter. Now sift in a third of the flour, followed by half of the IPA and mix to combine. Repeat with another third of the flour and the other half of the IPA ending with the last third of flour, beating to combine after each addition but make sure not to overbeat your mix. Transfer into paper liners using an icecream scoop, filling the cases to two thirds. Bake in the oven for 25 minutes until a skewer comes out clean and leave to cool on a wire rack.
For the topping:
250 g butter at room temperature
2 Tbsp freshly squeezed Lime juice
Zest of 1 organic lime
300 g confectioner's sugar
3 Tbsp brown sugar
Cream the butter with lime juice and zest before siftig in the confectioner's sugar. Mix thoroughly until the mixture turns fluffy and turns completely white. Transfer to a piping bag and decorate the cupcakes. Scatter the brown sugar in a fireproof ramekin and caramelize with a butane torch. Wait for the caramel to cool slightly before breaking it into small pieces and scattering it iver the cupcakes. Hopiness is just around the corner!
If you prefer a fancy presentation for a party, turn them into a beer mug. You can see the rather messy but really fast version in the picture. Free 2 cupcakes from their paper liners and glue them together with buttercream. Coat the cakes on the outside with butter cream and leave in the fridge to set for some time. Knead a lime sized piece of yellow Fondant or Marzipan and roll it out in a rectangle that equals the circumference and the height of your cupcake tower plus 1 cm with 3-5 mm thickness. Using a toothpick and slight pressure form small riffles in the glass in regular intervals.  Trim the edges and use the leftovers to form the handle. Wrap the rectangle around your cooled cupcake tower and seal the edges with a splash of water. Add the handle, also using a little water as glue and pipe some buttercream icing on top to form foam. And ta-duh, beer mug cupcake  mystery unveiled!