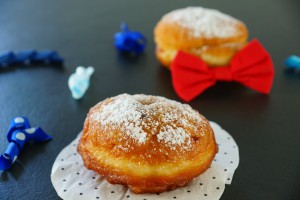 The official start of the fifth season for us Germans was last thursday at 11:11 o'clock. It is the time of the year half of the German residents dress up and go crazy while the other half  is rather annoyed or completely ignores it. Working with someone living in Rhineland or originating from there is borderline impossible until Ash Wednesday. I assume there must be something in the water there, as one of my colleagues who moved there 2 weeks ago changed his attitude towards carnival rather quickly. Whether you call it Karneval, Fasching or Fastnacht, whether they yell Alaaf or Helau, you either love it or hate it. I belong to the latter group and don't care much about it any more. But there is one thing I absolutely love and could't do without: Kreppel (or Krapfen or Berliner as the rest of the nation calls them). Kreppel are similar to donuts, small yeast buns that are fried, rolled in sugar and filled with marmelade. My Grandma used to make a ton for us when we visited her to see the carnival parade in town together. I really loved them but this year I wanted to try out something new. While brainstorming what to pair with a Kreppel I asked myself why not go crazy myself and dress up some swedish cinnamon rolls as Kreppels. Sounds weird but the taste is particullarly awesome!
Use this Kanel dough recipe  and prepare it accoringly. After the dough has risen, divide it into 1/3 for the cinnamon roll and 2/3 for the Kreppel.
For the filling:
25 g butter (molten)
3 tbsp plum marmelade (or any other type of marmelade you like)
50 g sugar
2 tsp cinnamon
For dusting:
75 g sugar
75 g icing sugar
2 pinches of cinnamon
Roll out the third of your dough to a rechtangle with minimum 5 mm thickness on a floured surface, mine was almost as big as a DIN A4 sheet of paper. Brush the dough with the molten Butter before spreading the marmelade on top, but make sure to keep one of the long ends of your rechtangle free from marmelade. Mix sugar and cinnamon and genourously sprinkle over the marmelade. Now it's time to roll up the dough from the longer end. Remember you have left some space on one end, make sure to roll towards this end to close your roll. Move your roll out of the rolling space before you cut it into 1 cm wide pieces with a sharp knife. Using a really sharp knife helps to keep the swirl you just formed intact.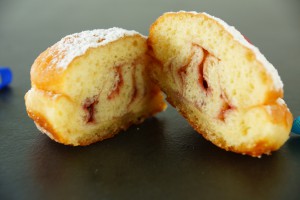 Now roll out the rest of the dough to about the same thickness on a floured surface. Cut your Kreppel base using a glass or a round shaped cutter with a diameter of 6-8 cm, depending on the diameter of your roll. When you place a piece of your roll swirl side down on your base, there should be at least 1 cm space all around it. Place another round on top and seal the edges gently with your fingers. Place it on a lined baking tray under a damp kitchen towel. Go ahead and do the same with the rest.
In case you have some leftover plain dough, you can also roll it out in twice the thickness and just use the rounds. I have tried to fill some of my leftover rounds with marmelade before frying but most of them leaked in the fryer and ended up tasting burned. Better fry them plain and fill them afterwards using a filling nozzle. Once you have finished all of these cuties, make sure to cover them all with the damp blankie and rest them in a warm space for 30 minutes. I often put my yeast dough over hot water or in the oven at 40°C to get the best result.
When the 30 minutes are up, preheat vegetable oil for frying. My Grandma always used coconut oil, but as it comes in solid blocks and I am a lazy girl I avoid the hassle to have to melt it before it goes in the fryer. Place a plate with a few layers of kitchen paper next to your frying facility. Also place a deep plate where you mix the sugars and cinnamon for dusting.
Once your oil has reached 160°C you can start to let your Kreppels take a dip in there. Fry them for 3-5 minutes per side, until they are brown. This frying from two sides causes the characteristic optic of a Kreppel with a lighter line in the middle. The time depends on the thickness of your Kreppel, so when in doubt just cut one and see if the center is thoroughly baked. Once they are good, fish them out of the hot oil and place them on the kitchen paper covered plate to drain while you toss the batch goes for a swim. Then move on to the dusting plate and roll them in the sugar to cover the whole thing with a little cinnamon sugar magic. Et voilà: here goes your carnival, a Kanelbullar dressed up as a Kreppel!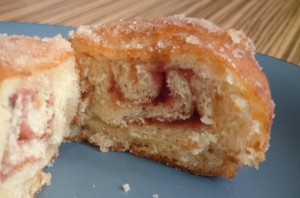 Sorry for the poor last shot, but the inside of my photo model was not as perfect as this one so I took a quick shot with my phone at work before I ate this beauty 🙂