March 20th marks not only the beginning of Spring, it is also Macaron Day and I am honoured that today's recipe is featured on my favourite blog and one & only fandom: Der Kuchenbäcker. The frequent readers may know that I already sang a hymn or two on him, all others are duly invited to check him out.
Macaron Day or Jour du Macaron was initiated 2005 by Pierre Hermé, the godfather of Macarons and Patissiers around the world sell Macarons on this day to fundraise for local charities. I like the concept but unfortunately there is no Patisserie around that takes part. Instead I want to bake some easter cookies again to donate them for a local group here in my town that meets every Sunday to help homeless and other people in need. It's not just about supplying the people with food and warm beverages, it is also a communication plattform and a meeting point for people in need. None of the people organising it gets paid, everything they give out is donated and they organise via a facebook group. I have been there a few times, mostly to bring some clothes or cake, and stayed there for a while to watch and listen to the people. Most of them have been through a lot and it always reminds me of how small my own problems are. I am very thankful that those people have somewhere to go, normal people to talk to that don't judge and give them back at least a bit of their dignity. It reminds me of how important it is to give back and to change the perspective on your own live from time to time.
Burger Macarons on Foodbloggercamp in Reutlingen 2016
But let's get back to Macarons, because that's what you came here for, right? I intended to host a Macaron session at Foodbloggercamp  in Reutlingen because I think sharing ones knowledge is also a way of giving back. Even though I am not a master myself, a barcamp is a good plattfrom to share what I know and exchange with others. When preparing my session a bit I stumbled over a Macaron inspiration book I bought and wanted to bring to show how diversely decoration of Macarons can be. I don't like the recipes in there but the decoration ideas are truly great. Thinking about last years cam in Reultingen to be very meaty and since I found my sister-in-meat in last years burger session, I felt I had to burger again. So I spontaneously decided to pack some sesame seeds and a packet of fresh mint I still had at home to pimp my Macarons to be Macaron burgers.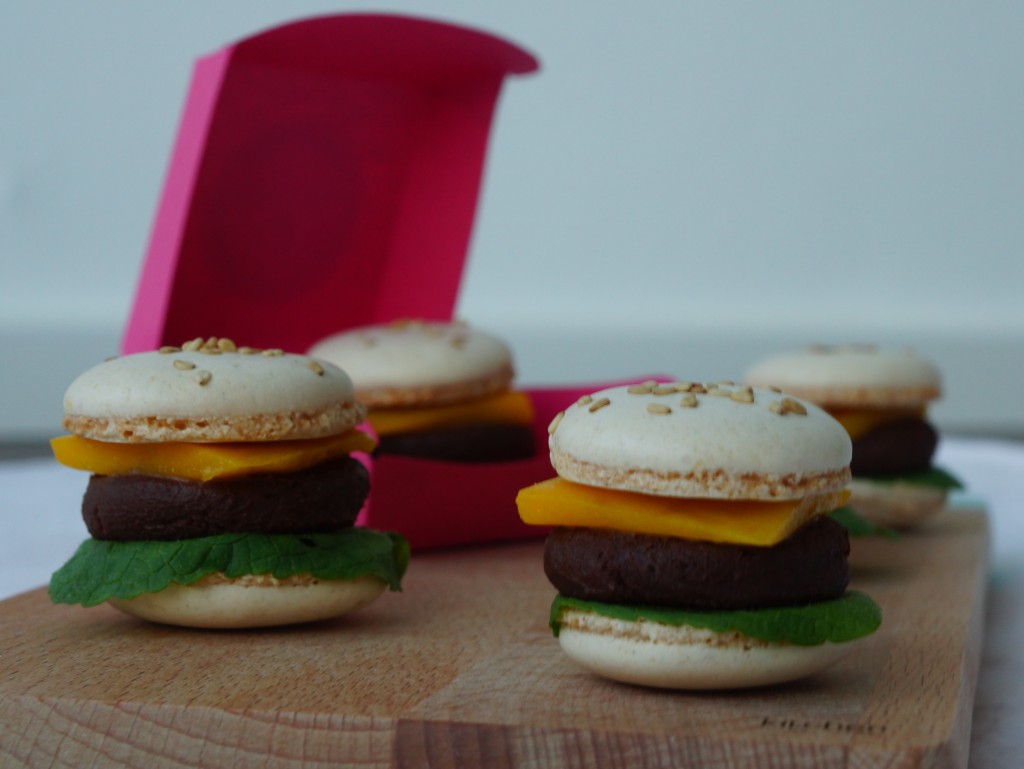 Talking about my session at Foodbloggercamp, I  still don't feel good about the chaotic session I held. I really want to apologise to all attendees and thank you for your patience. I can do better than this, I hope you guys at least learned something and if you have any questions just drop me a line! Some special thanks go to Diana, for spontaneously co-hosting the session and sharing her experience, Jana & Isabel for jumping in to help me finish the Macarons, Natalie, for being super flexible and letting me block 'her' kitchen throughout most of her Session and Gyöngyi for putting me back together after I was really upset about my chaotic session.
What I have learned about hosting a session on the barcamp:
It's a barcamp, so expect the unexpected!
Plan more time! After Berlin I thought doing one recipe in 45 minutes with proper preparation would be a walk in the park. Well… it wasn't!
Team up and ask for help! Taking care of hot sugar syrup while talking is a bit of a gamble. Even though I had a spontaneous co-host, I suck at delegating, the sugar syrup got too hot and lumped which resulted in a very hard meringue mass that comes out flaky and makes ugly Macarons.
Bring a handout! It's not the recipe, it's all the little tips and tricks you have to share from your experience that attendees want. 45 minutes pass so fast and it's just one of 6-8 sessions a day, so a handout helps to remember what you have shared. It also is a good preparation for the host, cause it makes you think about what you want to share in your session.
Go easy on yourself! It isn't just you in your kitchen at home all on your own, so don't expect perfection. This is a tough one for me because I always strive for perfection, especially with Macarons. In my session I talked about how to make perfect Macarons every time and then I deliver lumpy and bumpy Macarons?! Though ugly the Macarons tasted superb, the flavour combination was amazing and the attendees learned a bit too (at least I hope).