Remember me mentioning the swingy weather from day 7? On day 8 it didn't swing any more, all it did all day was pour. In the morning it was pouring as bad as I had never seen in Ireland before. The iternary for the day only had outdoor activities, which was what we discussed at the breakfast table. Our kind host Noel suggested, we should rather stop in Ennis for some serious shopping cause walking around outside all day with this weather wouldn't be much fun. So we spontaneously changed the plan and headed to check out downtown Ennis. It was pouring heavily, impossible to walk 20m without getting completely soaked… We decided to get some more coffee and some dolci at an Italian bar while we check out google maps for the good stores to shop at. We browsed highstreet, tried on a ridiculous amount of clothes and finally hit Dunnes Home for some plates and decoration. Victim… I often fail to notice because I live in my bubble and most of my peeps are foodbloggers, but there at Dunnes, it hit me that my friend was the most patient and thoughtful non-foodblogger travel companion ever. Not a single food was eaten before a picture was taken, food was arranged on the table to look nicely and even when buying plates she gave ideas on which combination of plates to get to make the best use of it for pictures and me.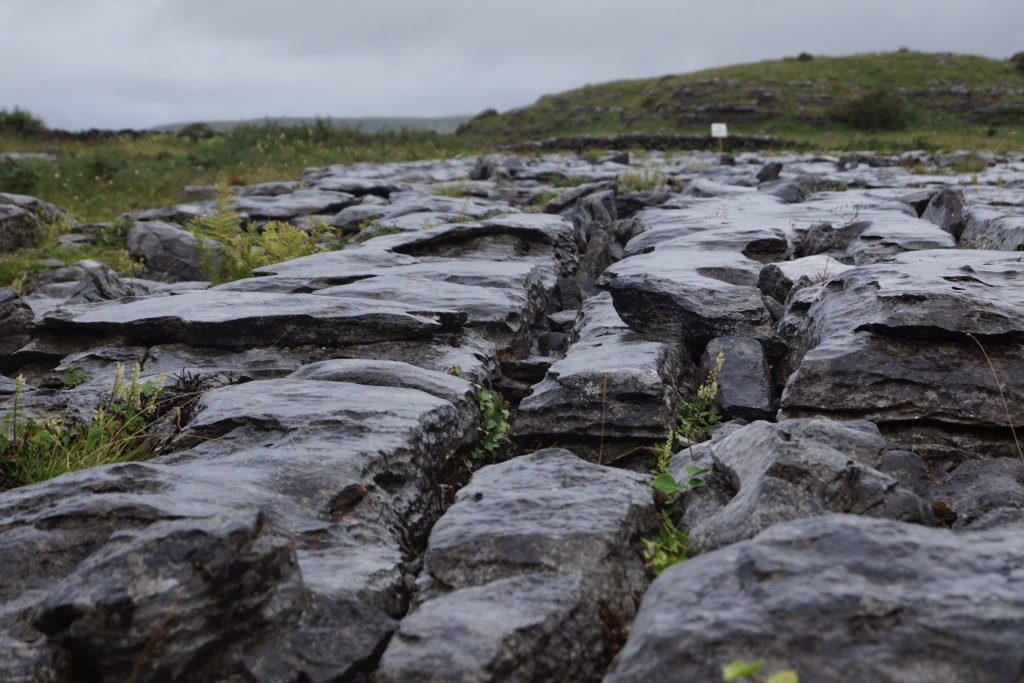 When we skipped a sight and my heart a beat
After some quiche, salad and a seriously large amount of Shepperds pie with gravy, we hopped in the car to the Burren national park. I decided that the Poulnabrone wasn't something to skip and so we went. The rain eventually got a little less, so we could take some time to roam around the karst landscape for a bit and take some pictures. The pictures proof there were smily faces despite the weather.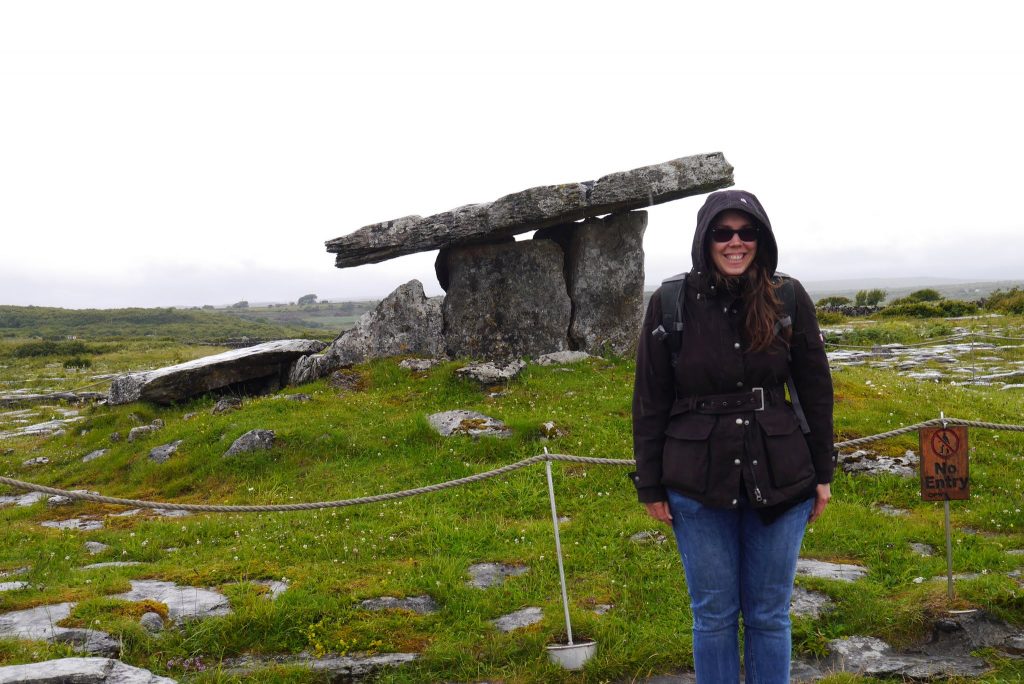 As soon as the pouring picked up again, we got back in to the car and out of the blue my friend suggested we skip the Cliffs of Moher and directly head to Galway. Eeeeeexcuse me?! How can we skip the single most famous sight of Ireland?! But my friend had a point there: She stated that she didn't need to do all the touristy things and that after the Kerry cliffs in glorious sunshine the Cliffs of Moher in pouring rain might disappoint her. Fair enough. And I kidd you not when I say: I was on a roundtrip in Ireland and didn't visist the Cliffs of Moher. Somehow it hurts to say that, but it felt right. So the GPS was set to Galway and we drove over extremely narrow, wet streets up north. Again I sent some prayers for no cars coming our way as the streets were mostly just wide enough to fit one car and there were so many swales that were filled with water that it splashed much higher than the car.
Don't take chocolate from strangers
We went on on winding country roads for quite some time, some narrow and some wider, little to no traffic and settlements. In a very remote area my friend yelled at me to pull over right now into a parking lot, which I complied with of course. This is one of the golden roadtrip rules: When asked to stop, we stop! My friend saw a road sign pointing to Hazel Mountain Chocolate. I had read about it in the Wild Atlantik Way Cookbook I picked up in Killarney, but had forgotten to add it to the list of potential stops.
First up we took a break in the attached Café, where they offer a small but delicious lunch Menu and of course all things chocolate. We opted for an orange blossom carrot cake to share as well as coffee and hot chocolate. The hot chocolate was amazing and so was the brownie. I also liked the interior decoration, it was all nice, cosy and very inviting. 
On our way out I snug a quick picture of the counter. Come on, seriously, isn't this place the cutest?! They even have tea pots as lampshades!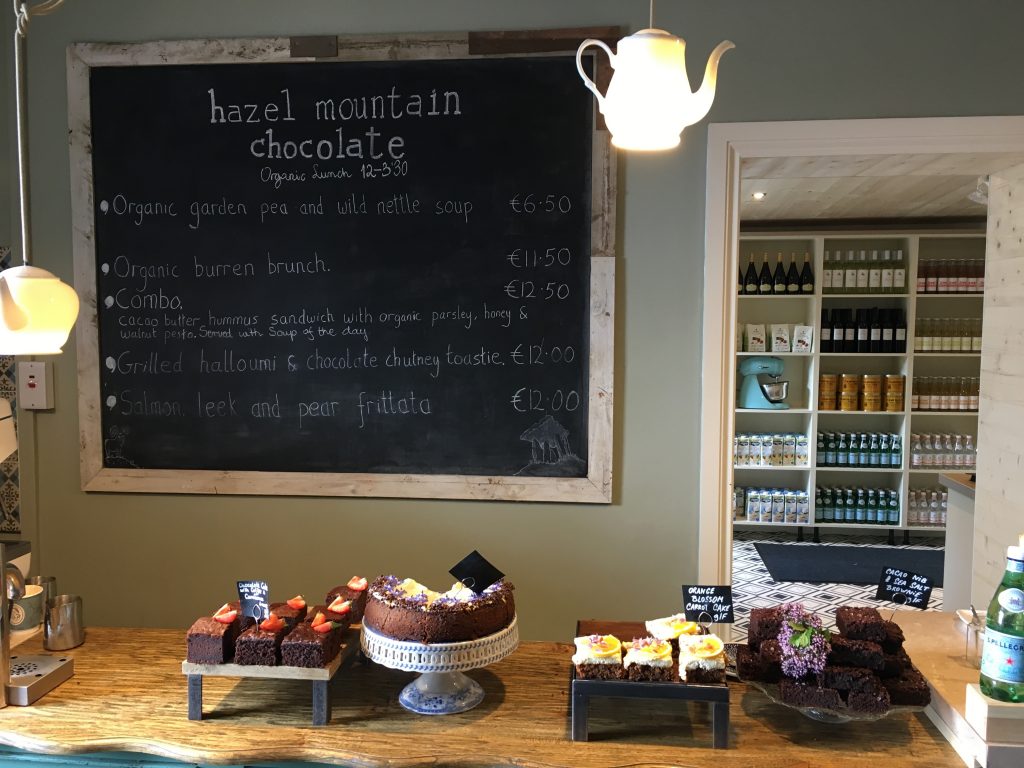 When you go round the cafe, there is the little factory with a shop where the bean-to-bar Hazel Mountain Chocolate is made. They had a lot of specialty chocolates as well as single origin chocolate bars from Madagascar to Cuba. The smell alone in the shop is divine, not to mention the nice grounds and the breathtaking surrounding area.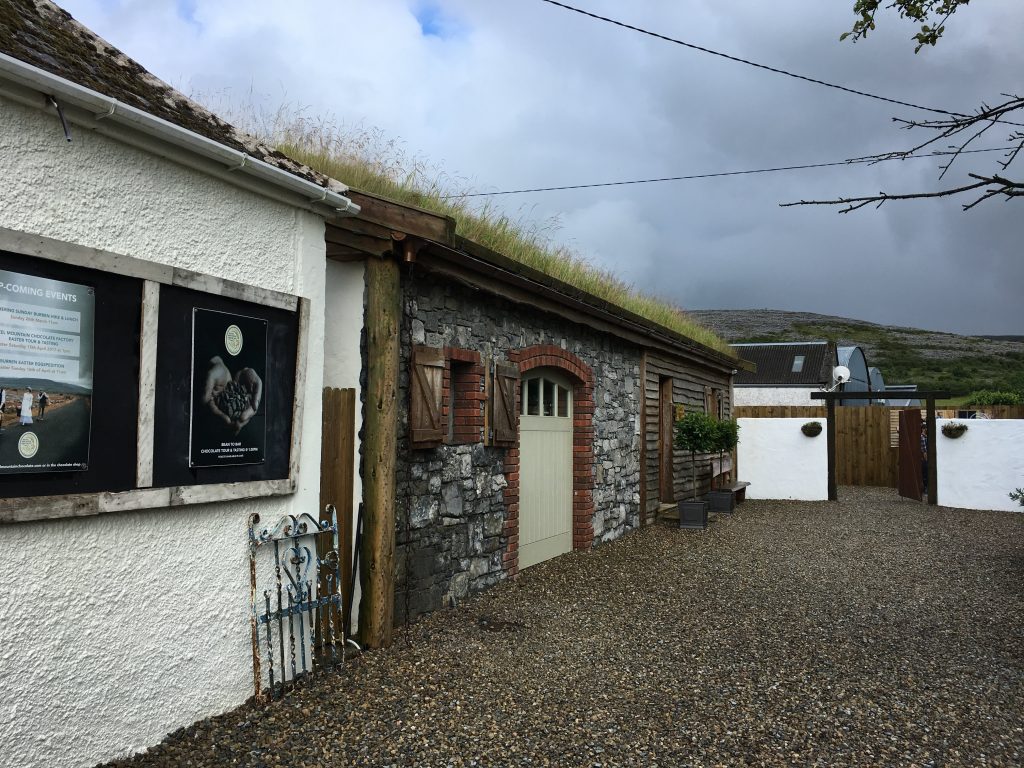 Basically all parents tell their kids not to take chocolate from strangers, right? My friend and I are no exception to this upbringing. We walked around the store and assesed all the different kinds of chocolates and tasting notes when a man sneaked up to us and offered us some chocolate. After I stated that we are not to take chocolate from strangers, he introduced himself as Gary, practically inventory of the chocolate factory and since he was no stranger any more, we stuffed our mouths with tasting chocolates. Gary is a smart salesman, we both left with a shopping bag…
Left out in the rain in Galway
We got back into the car and this is where the day took the turn to crazyland… We made our way towards Galway very slowly. I mean dead slow cause the traffic was massive and it took us more than an hour to get through Galway to where we were supposed to meet up with my friend's friend who lived there. It took almost 2 hours to get the 5 km through Galway, the traffic was just madness. When we finally made it to where we were supposed to go and found parking, my friend's friend was still stuck somewhere. I texted the Airbnb host again to ask what time the checkin was most suitable and after a bit of walking around, we finally got round to meet my friend's friend and her roommates in The Salt House Pub, a Galway Bay Brewery Bar with a large selection of craftbeers on tap and bottled. I got myself a nice craftbeer (some cherry porter the bartender recommended) and started to get to know the strangers at the table. Like my friend predicted there was an instant connection with her friend. With some people I just get along very well very quickly. After a few drinks we decided that it was time for dinner and queued at The Dough Bros for some Pizza. Cesars dressing on a pizza sounds pretty much disgusting at first, but it isn't that bad at all… The one thing that made me sick was the message I received from our Airbnb host, stating that he doesn't have a room and he doesn't know why "it" let me book…
It was 19:45, the town was packed cause it was summer holidays and the Fringe festival was on that weekend. After a call with Airbnb customer service who pointed out some free Airbnb and Hotel rooms, I tried to contact some hosts and checked for hotels online. All hosts declined my booking request as they already made other plans and the hotel prices were a damned cheek. Over 400 € for a room in something that looked like a worn down hostel and I kidd you not… My friend's friend suggested we try at a hostel around the corner and see if they had no-shows. After all pizza was eaten, we shuffled over to Kinlay Hostel and had a nervous breakdown at the reception. Unfortunately they had no free beds, but the sweet girl working the reception that night, Emmy, felt so sorry for us. She looked up options for us online, but all pretty expensive or available for only 1 of 2 nights. She got on the phone and called a few people, but no luck either. She exclaimed "okay, there is one more thing I can try" and a few minutes later she asked us if foldout-beds in the sitting room of a small bed & breakfast in downtown Galway for a decent price would be okay for us. She even printed out the directions and sent us off to Betty, who runs a small b&b in Galway who happens not to be on the internet at all.
We rushed over to grab the keys, both completely soaked and were directly guided into the kitchen to have a cup of tea and some biscuits. Betty is a nice old lady, a great example of Irish hospitality and I got serious "staying at my grannie's" feelings. Betty has an Irish accent and sometimes she was hard to understand though. She told us about her family, about her mother and her sister who both were on the city council and both were Cathaoirleach (gaelic term used for the chairperson or in case of Galway the mayor). I blame the accent and our tired minds after all the stress for misunderstanding a vast part of the conversation. Instead of mayor I understood married, which left me very confused when Betty told us about the "married" chain that is passed on and with each year gets a new chain link and showed us pictures old pictures of her mother and then of her sister with the same chain. Later I found out that this chain is the chain of office of the mayor of Galway and that made so much more sense… We slept on warm and cosy foldouts in the sitting room and were woken by a scrumptious breakfast on day 9.
More craic in Atlantis: Day 1 | Day 2 | Day 3 | Day 4 | Day 5 | Day 6 | Day 7 | Day 8 | Day 9