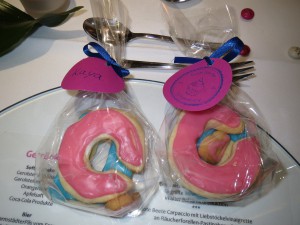 Wow! I can't believe one year has already passed. This Sunday is our first Wedding anniversary and the date coming closer filled me with mixed emotions. On one hand it makes me really happy because we spent a fantastic day with friends & family and had a wonderful ceremony & party. On the other hand it makes me sad, because my grandpa couldn't be with us and died a few weeks after our Wedding. But I'll stick to those happy memories for now, because everything else would make me burst in tears. My cousin's Wedding was 2 weeks earlier and she was pretty stressed the days before because she still had to pack all the Wedding favours for the guests. When she told me I started laughing and told her that there will be no Wedding favours at our wedding. I should regret the laughter only 2 weeks later… 2 days ahead of the wedding the Mister asked me about placecards. We before spent ages on a seating chart, trying to get everyone sorted was hard work. As I handcrafted all Invitations by myself, there were no ready-made place cards. Then I had a "Despicable me" light-bulb moment and went to town to pick up some cookie cutters. This family and friends celebration was just about the perfect time to make the Schabakery known amongst them.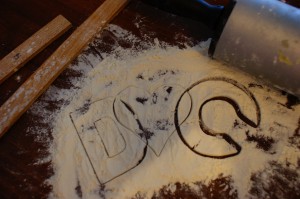 Thursday afternoon before the wedding I found myself in the kitchen for almost a day, covered in flour, making around 250 C's, D's and small hearts of cookies. I just used my Christmas cookies recipe and frosted them with pink and blue sugar frosting. I packed them in a clear foil bag and added round name tags with my wonderful Schabakery seal. That way I killed 2 birds with one stone, I had a very nice place card AND a wedding favour in one. Besides the wonderful flowers that my sister in law arranged and the custom m&m's my Mum and sister surprised us with they looked wonderful on the table and everyone could take some yummy Schabakery home.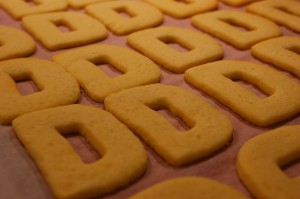 I am so sorry for laughing at you cuz! And thanks to my sister who seems to be the only one who captured the placecards in a photo.
3 eggs (at room temperature)
250 g sugar
500 g flour
250 g butter (at room temperature)
mark of 1 vanilla bean
Sift the flour in a bowl and add all other ingredients. Only mix to combine as little as possible, otherwise your cookies will shrink unevenly. Roll the dough out between 2 sheets of plastic foil, I always cut up 2 freezer bags and roll the dough between to a thickness of 0.5 to 1 cm. I divide my dough in 3-4 parts, so that I can take out 1 piece at a time. Let the dough rest in the fridge for at least 30 minutest. The chilled dough is much easier to process and grants rather sharp edges of your cookies. Also when doing fragile shapes it is easier to get it out of the cutter in shape. Maybe you will need a little flour to roll out the dough, but don't overdo, it'll spoil the consistency. Transfer your cookies to a baking tray lined with parchment and bake for about 10 minutes at 175°C until golden. Let the cookies cool on a wire rack completely before you ice them. I iced mine with coloured sugar frosting, just mix confectioners sugar with a 2:1 mixture of water and lemon juice (and gel food colouring) until you have the right consistency. I needed my icing a little thicker as I piped it on my cookies, you can also frost them with a brush or spoon.