Confessions of a baking addict: I am am obsessed with bakeware. I have tons of baking tins in all kinds of shapes but keep using only a fraction of them. But how many do you need? Many books suggest to aquire a loaf tin, a 8″ round one, a 9″ square pan and a bakingt tray. In addition some also suggest a 8″ tarte tin with removable base.
I own all of them except for the 8″ round, along with a few muffin tins, a round and a square 26 cm spring form, various bigger and smaller tarte tins, tartelette circles, Spongebobs, 3-tier-cakes, eastereggs, Santa Clauses and a lot of other stuff. Not to mention the million cookie cutters I bought over time and all the other equipment that keeps piling up in my basement. And still I catch myself urging to buy those 8″ sandwich tins or other things when browsing TK Maxx or the local kitchen appliance store. I don't allow myself to buy anything new unless I kick out something else, but apparently I need to declutter my utensils in the near future…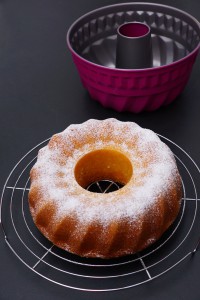 Lately I was doing my groceries and let myself step too close to all those sweet temptations: Tchibo. Like a moth to light I am drawn towards their always so super cute baking appliances, I can't help. Normally I can talk myself out of buying something within 2 sentences, but as I was in a weak state of body and mind, I ended up buying a Bundt pan in *squeeeeeeeeak* PINK!
I've never been the girly girl type, but I like me some bright colours and apparently pink is no longer on my no-no-list. I wasn't stopped at all, au contraîre, I even was encuraged to buy it and use it for the Frankfurt Crown Cake. Plus it was on sale. And it is pink, that's all I'm going to say to my own defence. It came with to recipe suggestions: Marble cake and a lemon cake. And since I don't like marble cake at all, I went for lemon. At least that was an easy decision, and yes the fact that I can only stand in the kitchen for 20-30 minutes did help forming it 🙂
Lemon Bundt Cake
200 g butter at room temperature (+ extra for greasing)
290 g sugar
zest of 1 lemon
6 eggs
290 g flour
2 tsp baking powder
1 pinch of salt
120 g confectioners sugar
120 ml fresh lemon juice (I needed 3-4 lemons)
When there is zest involved, I ignore all directions in recipes and mix sugar and zest before and let it sit for at least 30 minutes. The infused sugar does give the cakes more flavour I believe. Grease the pan with butter and dust it off with a little flour. Preheat the oven to 160°C with fan. I a bowl cream the butter and add the infused sugar. Keep beating until it is really light and fluffy, that may take some minutes. Make sure you're always stiring into one direction, don't go all wild and change directions. Add one egg after the other, beating them in for at least 30 seconds each. Mix flour, baking powder and salt, sift into the bowl and mix to combine. Spread the mixture evenly in your bundt pan and try not to ruin the flour coating. Bake for about 60 minutes, until an inserted skewer comes out clean. Let the cake rest in the tin for some minutes but not more than 10, then turn it upsie down to come out. If your cake does try to sabotage you and doesn't come out, keep calm and wrap it with a damp kitchen towel for some time. This usually does the magic and the cake will fall into place and out of th tin. If it still refuses to cooperate, you can still turn it into cake pops 😉
Brush your cake with a mixture of lemon juice and confectioners sugar. Therefor poke small holes into your cake with a skewer and brush it with the juice. I only poke holes into the bottom of the cake to not spoil the smooth surface. Dust of with a little confectioners sugar and enjoy. If you let the cake sit overnight, the lemon juice does it's magic soaking the cake and boosting the flavour. If you want to give your cake an upgrade, you can also transform it into a lemony sandwich filled with berry jam.