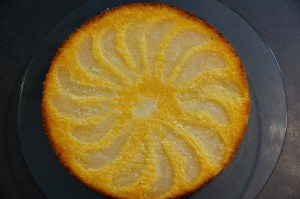 I know I've been very quiet in the past months. I had another knee surgery coming up and invested my time more in larger baking projects that I wanted to blog about when I am tied to the couch anyway. Nice plan, but didn't quite turn out that way. In the past four weeks after my surgerey I focussed on fightig my way back in to normal life and the total lack of structure made it difficult for me to motivate myself to actually do something. Last week I made a faithfull attempt to get back to blogging by writing myself a schedule but I couldn't be bothered for some reason. I miss baking more than I'd admit. Writing about past projects only makes me want to do something of similar complexion again. And I am currently not capable of standing in the kitchen this long. I was looking through my To Bake List for something easy and quick, that I can handle in my current state. I was looking for a fruity all-in cake and found the Lemon-Pear-Polenta-Cake from the Cake Cafe book. I was pretty curious to try this recipe, as it was completely flourless and sounded a little extraordinary. On the bright side, the cake is very moist and lemony, but on the downside very crumbly on the sides. Maybe the Polenta I used was not fine enough, it was really awfully crumbly on the outside and the consistency was not much of a cake consistency. I really liked the taste but I guess I won't be doing this cake again. In case you want to try and see yourself, here goes the recipe:
For the cake:
250 g butter at room temperature
zest of 2 lemons
225 g sugar
3 eggs separated
pinch of salt
1/4 l lemon juice (I squeezed about 4 lemons)
150 g ground almonds
225 g VERY FINE polenta
1 pear; peeled, cored and sliced
1 tbs brown sugar
For the syrup to brush the cake: 
125 g sugar
100 ml water
1 lemon, juice and zest
Grate the lemon zest, mix with the sugar and let the flavours infuse the sugar for 30 minutes. Meanwhile line a 8″ or 9″ round tin with parchment paper. Preheat the oven to 160° with fan. Beat the egg whites with a pinch of salt at medium speed until stiff and set aside. Soften the butter in another bowl and beat together with sugar and zest until really light and fluffy. It will lose its colour and become paler, but this may take some minutes. Add the egg yolks and keep beating, we want as much air as possible in our mixture at this stage. Add the juice, polenta and ground almonds and stir in carefully. Last fold in the egg whites without beating too much. Put the sliced pear on the bottom of your lined tin, I put mine in the shape of the sun to go with the current weather 🙂 Top with the cake batter and bake in the oven for 45-60 minutes, depending on the size of your tin. Make sure it doesn't stay in the oven for too long, otherwise the Polenta will burn on the sides and on top and will turn very awkwardly crumbly.
While your cake is in the oven, cook the syrup to brush the cake when it comes out of the oven. Place water, juice, sugar and zest in a pot and boil until the sugar is dissolved, then remove from heat. After the cake is out of the oven, poke small holes in the cake with a skewer and pour two thirds of the syrup over the cake. Once the cake is cooled, turn it upside down and pour the rest of the syrup over the top of the cake using a sieve to filter the lemon zest. Et voilà, the sun is risen