I can't believe my baby turned 5 yesterday, where did time go?! I am looking back on 5 lively years, even though this is "only" the 100st post <insert another yay here>. I have been through some rough patches, especially lately, but for some reason I can't give up this blog, don't want to give this baby a new name or change my ways. As a matter of fact, I live and breathe Schabakery, I am Schabakery. And there is absolutely nothing wrong with that 😉
I thought hard about what to do or say for this birthday post, as a matter of fact for the first time in 5 years I remembered the blog birthday and wanted to prepare something. Here I sit, out of words and still baffled that I am writing this blog for 5 years alreay. I could bore you with statistics, the number of recipes I posted and the estimated amount of flour & butter I used in the past years, but all I can do is sit here and be amazed. I am in the comfortable position that I can consider this blog my hobby, the only person pressuring me to work on it is me. Of course I want to be innovative and »original« but most of all I want to be me and if I can inspire only one single person, it is a success. I met so many great people through blogging, some of them have even become close friends and I guess those people, the occasions that blogging creates and the creative exchange is the essence of what always kept me going with my blog.
The strive to be innovative has taken me down some dark paths and discouraged me, but it also fired up my love for the simple, basic things. Cakes don't have to be fancy to be good and even simple things can be turned into showstoppers easily. I can't stress this point enough and I hope I get it across in my recipes. There is close to no cake disaster I haven't experienced yet, but there is always a way out. Which brings me to the first "recipe" post on my blog: The Cupcake Massacre. I followed the recipe for chocolate cupcakes step by step and all I got was crumbles. I guess that happens to the best and let me assure you, this wasn't the only little baking disaster I faced in the past 5 years… As easy as it sounds and as hard as it is sometimes: Never give up! Don't let a fail get you down, dust yourself off, buckle up, believe in yourself and try again. I don't know why it took me 5 years to try this recipe again. But this time I mastered it. I took a few tiny alterations and transfered it to metric measures.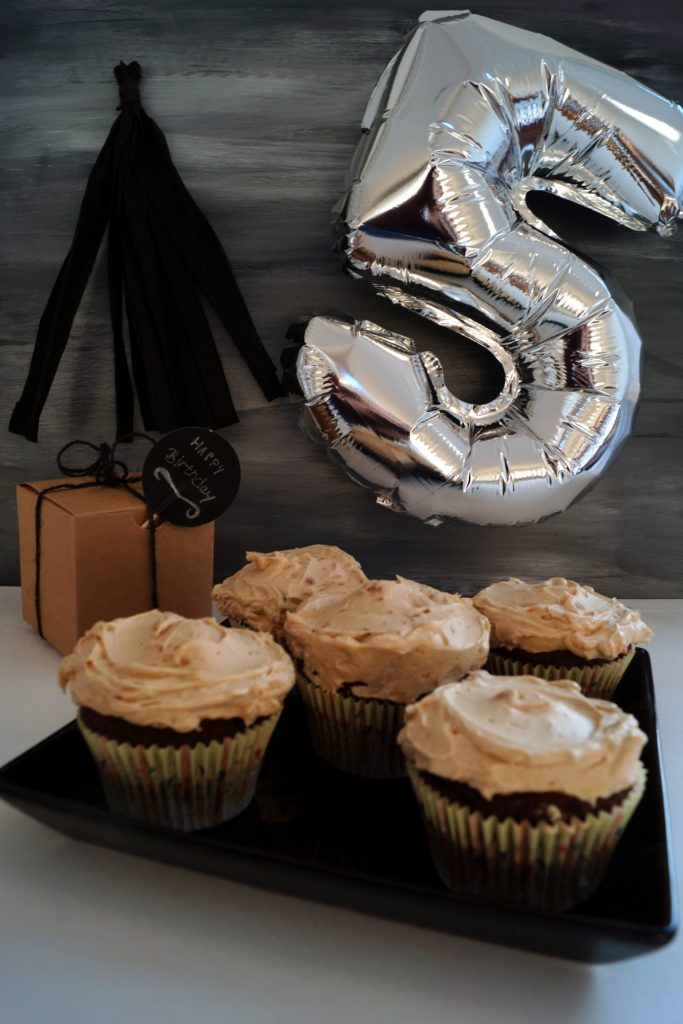 For 12 chocolate cupcakes:
115 g butter
60 g dark chocolate
50 g dark cocoa
2 eggs
100 g sugar
1 tsp vanilla extract
100 g flour
1/2 tsp baking soda
3/4 tsp baking powder
125 g sour cream
Preheat the oven to 175° C and line a standard muffin tin with paper liners. Combine butter, chocolate and cocoa and place the bowl over simmering water to gently melt the chocolate. Set aside and let cool until only lukewarm. Whisk the eggs on medium high speed until fluffy, then gradually add the sugar and the vanilla extract until the mix is light & fluffy and the sugar has dissolved. Add the chocolate mix and whisk only so much that it comes together. Combine flour, a pinch of salt, baking soda and powder. Sift a third of it on top of the chocolate-egg mix and whisk to combine. Add the sourcream and gently work it in completely. Then sift in the rest of the flour and mix until completely combined. Fill the same amount of dough in each paper liner and bake in the hot oven for 18-20 minutes. Let the cupcakes cool in the tin for about 10-15 minutes until set, then remove them from the tin and let cool completely on a wirerack.
Peanutbutter Frosting:
2-3 tbsp confectioner's sugar
300 g peanutbutter (use creamy if you want to pipe the frosting, I used crunchy and "smeared" it on the cupcakes)
60 g butter at room temperature
125 ml heavy cream at room temperature
Cream butter, peanutbutter and confectioner's sugar at medium speed, then add in the cream and beat at high speed until the mix gets a smooth frosting like consistency. Dress your cupcakes with it and enjoy. The frosting gets rather soft at room temperature, just how I like it.