Important report incoming: Summer is finally over and fall is here to stay. Behold! I know some of you just chocked on their PSL… My favourite part of fall is damson plum season, it reminds me of good ol'times and gives me a warm, fuzzy, comforting feeling. I know I still owe you the basic damson plum cake recipe like my Grandma used to make it, that I started to write years ago and never finished. But this one is too good and too delish to not share right away with you. The feedback of my taste testers was overwhelmingly good, not that I had any doubt with this combination of cinnamon pie crust and frangipane/marzipan filling topped off with local, fresh damson plums.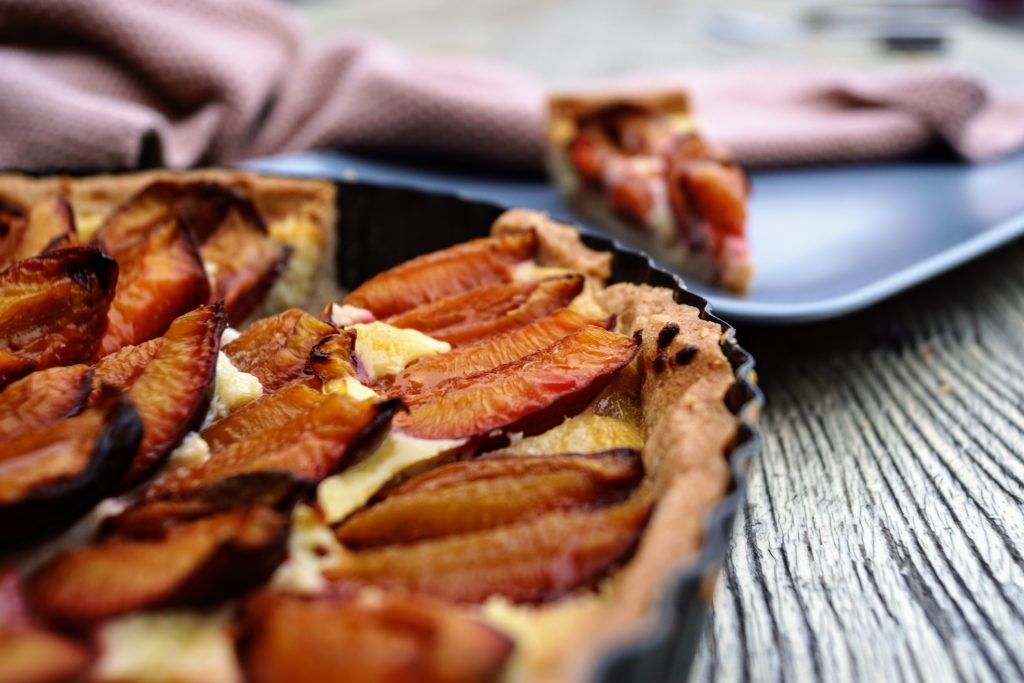 For the Cinnamon Short Crust:
120 g butter at room temperature
80 g confectioner's sugar
30 g ground almonds
1 egg
200 g flour
1 generous tsp ground cinnamon (make sure to use good quality ceylon cinnamon for an extra boost in flavour)
Soften the butter with the paddel attachement of your mixer, then sift in the confectioners sugar and mix to combine. Add the egg and the ground almonds and whisk them in. Last sift the flour and cinnamon on top and quickly knead to a combined soft dough. Roll out between two cut open freezer bags to a large round with the diameter of your tin plus the height of the rim. Let the dough rest in the fridge for a good 30 minutes. Transfer into a greased and lightly flour dusted 23 cm tarte tin and trim the edges. It's okay to munch on the leftover raw dough, we all do (even though there is uncooked egg in it…) Let the tin rest for another 10 minutes in the fridge.
For the Frangipane Filling:
200 g marzipan (cooled)
2 eggs
50 g butter at room temperature
500 – 600 g damson plums
Preaheat the oven to 175° C. Cover the dough in the tin with baking parchment, fill up with baking peas and blind bake in the oven for 10 minutes. In the meantime grate the cool marzipan carefully with a grater. It's kinda sticky, but it works okayish when the marzipan is chilled. Just watch your fingers ;-). Mix the grated marzipan with the eggs and the butter to a thick filling. Wash and pat dry the plums, cut them in half and remove the stone. Get the tin out of the oven after the 10 mins blind bake time, remove the beans and the parchment, fill with the frangipane filling and neatly push in the plums. Bake for another 24 minutes, then remove from the oven and let the tarte cool completely in the tin. Serve plain or with a dollop of whipped cream. You're welcome!