After 3 trips to Ireland this year, it's safe to say that I am a little obsessed with this country… My travel plans for this year only contained one trip to Ireland in late January with my friend to visit one of her old friends in Cork. That's a part of Ireland I hadn't been to before, so I was instantly lit. On my birthday another friend suggested an Irish roadtrip in the summer and a little over a month later we found ourselves on an epic adventure: #craicinatlantis. Since I had checked off at least 1 item of my travel bucket list, I was again on fire when another friend suggested to take her to Dublin over the weekend, to work on her fear of flying and to enjoy the beauty of Dublin in November. We've been only a few days too early for the real Christmas spirit to drop aka the Christmas lights being turned on, but it's been a fabulous trip anyway and I enjoyed the most gorgeous views of Dublin in the winter sun. 
Oooookay, how do I get to Pudding from here, cause that's why we're all here, right? Right… From my first trip to Dublin Pre-Christmas I brought home a Christmas Pudding from a supermarket chain because I was pretty curious what this "thing" that I only knew from my English book in school actually was like. It kind of became a Christmas tradition, but then it stopped, cause no Pre-Christmas trip and it got forgotten. Until a few weeks back, when my friend Käthe invited me to her birthday party and asked to bring something for the buffet. I thought hard about what to bring, but my mind was blank like oh so often lately… Käthe helped me to brainstorm and in the end basically she came up with an idea: Since it was that time of the year and she knows how much I love Ireland, she suggested I bring some Christmas Pudding to her party.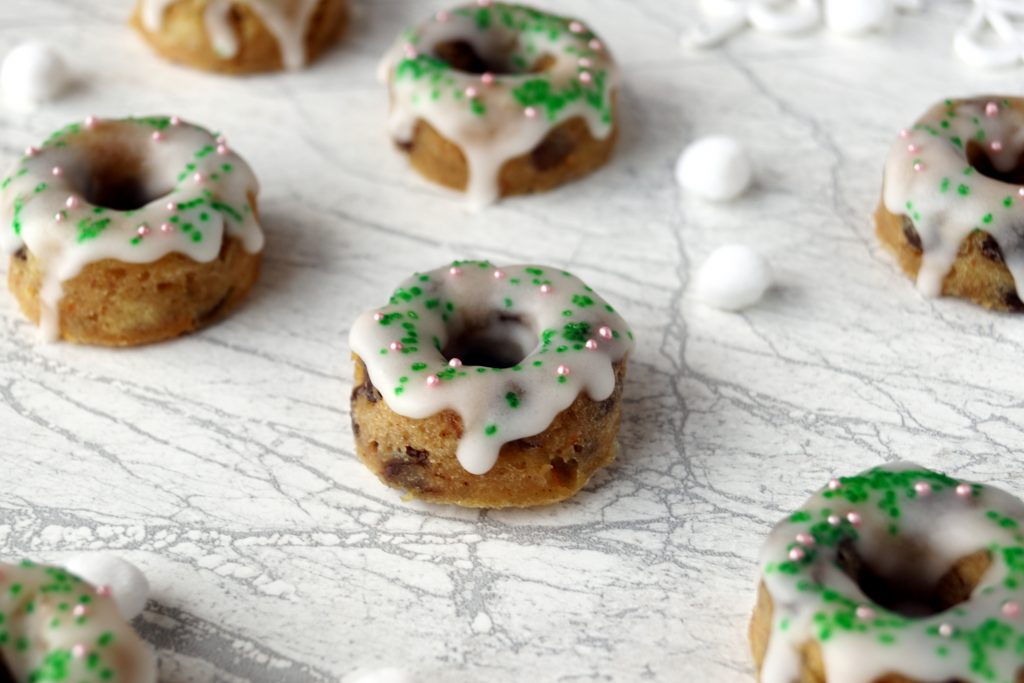 Duh! Can the answer be more obvious?! I started a vast research and came up with a plan. Christmas Pudding is not a cake, it is not baked but steamed for 6 hours and usually made weeks ahead of Christmas, cause it has to sit and ripe. But ain't nobody got time for that, right? So here goes a quicker version that can be enjoyed almost right away, it just needs one night ahead to prepare.
For 30 Mini Irish Christmas Puddings in Donut or Bundt shape (or 1 large pudding bowl):
1 orange (zest and juice)
1 lemon (zest and juice)
1 large apple (peeled and finely grated)
125 g sultanas
125 g raisins
50 g almonds (chopped)
80 g brown sugar
2 tsp mixed spice (I use this "recipe" for mixed spice: Mix 2 tsp ground coriander, 2 tsp cinnamon, 1/2 tsp allspice, 2 tsp nutmeg, 1 tsp ginger and 1/2 tsp ground clove.)
3 tbsp Irish Whiskey
100 g breadcrumbs
2 eggs (at room temperature)
120 g butter (at room temperature)
150 g flour
1 tsp baking powder
pinch of salt
The night before "baking" mix together all ingredients down to the Whiskey (including it), cover the "fruit mix" and let sit over night.
The next day stir breadcrumbs into your fruit mix. In another bowl cream the butter, then add one egg at a time and whisk in thoroughly. Sift in the flour, baking powder & salt and whisk to combine. Last, fold in your fruit mix and that's it. If the dough is too dry, you can add another dash of Whiskey.
This is the part where the dough usually goes into a buttered pudding bowl and is carefully steamed for 6 hours in a pot on the stovetop. You can either do that or prepare to steam in the oven. If you are fortunate enough to have a steamer, you might as well use that. I neither have much patience nor a steamer, so I filled my deep baking trays with enough water to come 2/3 up the sides of my silicone mini donut and bundt molds. I also tried with silicone muffin molds and that worked well too, just needed 10-15 minutes more in the oven.
Preheat the oven to 180° C with the water filled baking trays inside to create some steam for the mini puddings to sweat in. Stuff the dough into your molds but leave a little room for the dough to rise. Cover with tinfoil and seal the edges, but again, leave a little room over the dough for it to rise. The sealed tinfoil is supposed to keep the moisture away from your pudding because that is what makes the pudding too sticky and gooey. Nope, we don't want that!
Carefully (!!!) place the molds on the tray and in the water. Since the water is boiling hot please really do be careful… Steam the Minis for 25 minutes, as mentioned above, normal sized muffins need 10-15 minutes more. Carefully (!!!) remove the tins from the oven and let them cool on a wire rack. Once the puddings have set and are more or less cool, you can remove them from the molds.
The bigger the pudding is, the longer it keeps fresh and the longer it should sit to develop it's flavour. Traditionally the pudding is reheated in steam on Christmas and served with brandy butter and cream. Those of you who are on fire can also flambé it. Alcobloggers can as well brush it with another layer of Whiskey and skip the flames for more bang. Which poison you choose is totally up to you.
Since I wanted to serve the Minis right away, I baked them on the day of the party and topped them with a simple but boozy icing of confectioner's sugar and Whiskey as well as some sprinkles. The puddings are fresh and juicy, so don't expect them to remain as picture perfect with the icing on them. If you plan to serve them some other day, keep them in an airtight container without icing and ice or top them directly before serving.