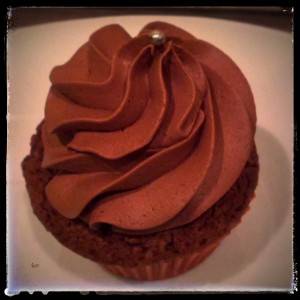 I must confess I couldn't resist when I found the Primrose Bakery Cupcake Book at TK Maxx in Dublin. I had it on my amazon wishlist forever, but never ordered. I was talking myself out of buying another bake book to go into my shelf, but was made to buy it anyway. Back in the hotel I pulled it out directly, started sneaking through the pages and instantly felt the urge to lick the pages. As you might have noticed the TBL was flooded with recipes from this book 'cause they all look so appealing. After the fantastic Orange Cake from the Cake Cafe I was kind of set to oranges when asked to bake something to bring to work. A simple cake wasn't enough, it needed to be more fancy pants, so I decided to make Chocolate Orange Cupcakes with a Chocolate Orange Buttercream. Sounds like a Chocolate-Orange-Overkill, he? I did this a while back, just before we were moving so there is no pretty picture. But they taste A-M-A-Z-I-N-G! Seriously, go buy the book!
For the cupcakes:
115g dark chocolate
90g butter at room temperature
175g golden sugar
1 orange (Zest and 75 mljuice)
2 eggs at room temperature
185g flour
1 tsp baking powder
1/2 tsp salt
1 tbsp milk
Mix the sugar and the zest of the orange together and let the zest infuse the sugar with its flavor for at least 30 minutes. Preheat the oven to 160°C with fan and line a muffin tin with paper liners. Melt the chocolate over simmering water or in the microwave and let it cool until it is lukewarm. If you are using the microwave for melting chocolate, better be careful. The new microwave and I are no friends yet. While I was trying to melt the chocolate, I not only burned the chocolate but also the plastic container and the newly installed Firealarm went off immediatelly after opening the microwave… Better start on a lower power level and do it in short intervalls, while stiring occasionally.
In a bowl cream the butter and sugar together until light & fluffy and much paler in colour. Beat in the eggs one after the other for at least 30 seconds. I just read that you should always beat in one direction. If you change directions, you beat out the air that you are supposed to beat in. It kinda makes sense to me. But with my Kitchen Aid, there is no changing directions anyway 🙂
Add the chocolate while beating at low speed until it is completely incorporated. Mix the flour, salt and baking powder and sift about 1/3 to the batter and beat in. Add 1tbsp milk to the orange juice, pour in half of the juice and mix to combine. Repeat with another third of the flour and add the other half of the juice afterwards. I have learned in the cupcake class I attended last year, that you should always end with the flour when adding flour and liquid alternating.
Spoon the mixture in the paper liners and fill them to two thirds. Bake in the oven for about 25-30 minutes. Let them rest in the tins for some minutes after removing them from the oven when a skewer comes out clean. Then transfer them to a wire rack and let cool completely before you ice them.
For the icing:
175g dark chocolate melted and cooled til lukewarm
225g butter at room temperature
1 tbsp milk
1 tsp orange juise
250g icing sugar
orange zest
Beat the butter, milk, orange juice, zest and icing sugar until smooth, be patient, that may take some time. As I am a unpatient person I tend to stop too early. I think if I had to use a hand mixer I would die. Seriously, the Kitchen Aid was my best investment ever. Add the chocolate and keep beating until the icing is thick and spreadable.
The book suggests to ice cupcakes in a special way with a palette knife but the crowd didn't find it appealing. Thats why I used a piping bag and a star nozzle. The colleagues were flattered by the tangy and chocolatey taste.