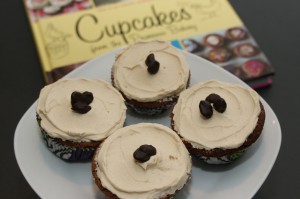 Every time I am home alone, I make huge plans. After getting up very early I find myself writing an enormous to do list. On my list are always a lot of tasks that I procrastinate as long as possible. I even start with tasks that I detest in order to avoid something that is even worse. Then I need to trick myself and add a bonus task to my list, something I love doing, that I only allow myself to do after I completed the other skipped tasks. Sounds ridiculous but it kinda works for me. My bonus task was baking cupcakes. I have a very poor time management, once I had finished the cupcakes I had to rush to a Whisky tasting and ended up icing cupcakes at 1pm. But it was totally worth it. It was another recipe from the Primrose Bakery Cupcake book. I LOVE THIS BOOK!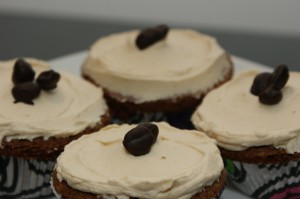 For the best chocolate cupcakes ever:
115g dark chocolate
85g butter at room temperature
175g golden sugar
2 eggs at room temperature
185g flour
3/4 tsp baking powder and 3/4 tsp baking soda
a pinch of salt
250 ml milk at room temperature
Preheat the oven to 170°C with fan and line a 2 muffin tins with paper liners. Carefully melt the chocolate over simmering water or in the microwave and let it cool until it is lukewarm. Separate the eggs and beat the whites with a pinch of sugar unti stiff. The eggwhite is stiff enough when you can take the bowl and hold it over your head upside down without the eggwhite dripping on your head. Beat the egg yolks in a separate bowl and set aside. Cream the butter and sugar together in another bowl until light & fluffy and much paler in colour. Be patient, it is totally worth it. Beat in the egg yolks for some time. Again, have a little patien-ce.
Add the chocolate while beating at low speed until it is completely incorporated. Mix the flour, salt and baking powder and sift about 1/3 to the batter and beat in. Pour in half of the milk and mix to combine. Repeat with another third of the flour and add the other half of the milk afterwards. Always end with the flour when adding flour and liquid alternating.
Spoon the mixture in the paper liners and fill them to two thirds. Bake in the oven for about 20-25 minutes. Let them rest in the tins for some minutes after removing them from the oven when a skewer comes out clean. Then transfer them to a wire rack and let cool completely before you ice them.
For the coffee icing:
150g butter at room temperature
1 espresso at room temperature
350g icing sugar
chocolate covered espresso beans
Here I made some alterations to the original recipe from the book. The book called for instant espresso powder but I usually don't have instant coffee at home. I am kind of a coffee junkie and I am very picky when it comes to coffee. As I decided to make the cupcakes spontaneously on a Sunday night, I had no chocolate covered coffee beans. But I had chocolate and of course very delicious espresso beans from Wacker in Frankfurt. So I covered the beans myself… I know, it is all in the details. Anyway, melt chocolate, put in beans, place on a sheet of parchment paper and let them dry.
Beat the butter, espresso and icing sugar until smooth, thick and spreadable. Ice the cupcakes with a palette knife in a circular motion and top with chocolate covered espresso beans. Makes a wonderful afternoon treat.