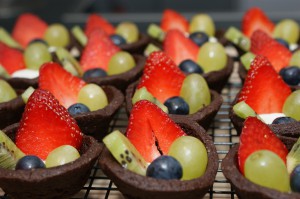 I have seen this idea on Pinterest and kind of fell for it: Small bowls made of cookie dough. All you need to do is turn your muffin pan upside down and place round cut cookie dough on there. I must confess I tried a lot of those life hacks you find on Pinterest with mixed results. Most of the things I tried did not come out as good or easy or at all. But this time it actually worked though I improvised. I was invited to a Party with a Sports theme, so I wanted to bring something cool, awesome to impress but also a little healthy. After consulting Google, this sugar cookie recipe was picked. But I was set on chocolate so I varied the recipe slightly.
Chocolate Cookie Bowls
2 cups flour
3/4 cups cocoa
1 tsp salt
250 g butter at room temperature
1 1/2 cups brown sugar
1 egg at room temperature
1 1/2 tsp vanilla extract
250 g Quark mixed with 2 tbsp sugar
various fruits to fill
Preheat the oven to 175° C with fan. Oil the bottom of your muffin tin or mini muffin tin, I tried both but I liked the mini ones more. Soften the butter, then mix in the sugar and beat until light & fluffy and pale in colour. Beat in the egg and stir in the vanilla extract. Mix flour, cocoa and salt and sift in. Knead to a dough, if it is too sticky add more flour.
Roll out the dough to 5 mm thickness on a floured work surface. Cut out rounds that are only slightly larger than the base of the muffin. Gently push it over the edges, make sure it only reaches down only half the way. Bake in the oven for 10-15 minutes until they are firm. After removing the pan from the oven let it cool, but better start removing the bowls before they are completely cooled. The mini ones came out much better than the larger ones.
After they have cooled completely you can fill them with whatever you want: icecream, fruits, whipped cream, … I filled them with Quark and fruits. They were gone within minutes. Don't let them sit for too long when filled with moist things, otherwise the cookies soak up and fall apart.