Don't get me wrong, I met a lot of bloggers that inspired me in the past year, but my one and only muse is Tobias aka Kuchenbäcker.We met at a local Foodblogger meet-up last summer and I was really blown away by this guy. Not only are guys that can bake rather rare, but also he was the first kind of famous blogger I met in person. Tobi is down-to-earth, vibrant and full of ideas, he is the brightest, most energetic and inspirational person I have ever met. Even when he is stressed, sick or in a bad mood, he still makes the sun shine through the rain what brought me to nickname him Glücksbärchi (That's what the care bears were called in Germany). If you do not remember this 80ies cartoon series, I'm happy to fresh up your memory: It's a bunch of cute furry guardian angels that show up to help you out with their happiness and magic whenever you're facing problems. And that is exactly what Tobias does for me. He is generously giving advice, sharing his experience, open to any "dumb" question I may have and his enthusiasm is truly contagious. I get such a boost in motivation every time we meet and you light up my blog-world. You deserve one big fat thank you Tobi!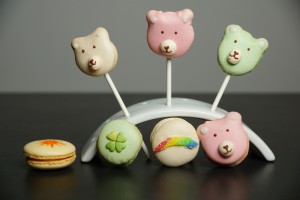 For his double-feature birthday bash contest he asked everyone to bake him a cake. But I couldn't help ignoring the cake part because I am the Macaron-Girl to him. And that's why I combined the best of us both: Care bears and Macarons in symbiosis. The biggest challenge for me was to take the stage together with my bakes. I take pictures of my food all the time, but hardly ever show my face. Thanks again Tobi for making me take the spotlight, my "About me" page is now updated with a picture.
A bear face Macaron requires 3 parts: A 4 cm pastel-coloured round base, a 4 cm pastel-coloured bear shaped top and a 1 cm white round nose. Therefore you need a bakingsheet-sized stencil with 4 cm circles, but make sure to leave some room in between for the bear ears. You can either draw 2 small circles to every second circle for the ears or just add them freehand with your piping bag later. Same applies for the noses, you can either draw 1 cm sized circles on a stencil or pipe them freehand with a small round tip. As you need to change the nozzle in between, I advise to use a piping bag with a connector, that allows you to change the nozzle while the bag is filled.
Prepare the Basic Macaron recipe with Italian Meringue for the bears and preheat the oven to 170°C with fan. Fill 2-3 tablespoons of the white Macaron base into a piping bag with a small round tip, maximum 5 mm in diameter. Pipe around 45 small, flat rounds with 1 cm diameter onto the baking sheet. And when in doubt, just pipe some more just in case. Bake them in the preheated oven for 6 minutes total, turning the baking tray after half time by 180°. After baking time directly remove them form the tray and leave the noses-to-be to cool.
Divide the rest of the Macaron base and colour it with gel food colouring. I used different fillings and corresponding colours. For lemon, strawberry and pistachio divide into 3 parts and add a dash of yellow, red and green food colouring for a soft pastel-colour. Put a sheet of parchment over your stencil onto a baking tray. Fill a piping bag with one part of your coloured base and use a 8-10 mm round nozzle to fill out the large rounds of your stencil. Once you have filled all rounds, change the tip and use a small 3-5 mm round tip to add 2 dots as ears to every second round. You can try to add ears to every round if you're ambitious, but I find it hard to find exact matchting Macarons and filling them is harder, too. Bake in the hot oven for 6 Minutes, then turn the tray by 180° and bake for another 6 minutes. Directly remove the Macarons from the tray and leave to cool. Repeat until all of the Macaron mass is used up, then proceed with the next colour and so on. Once all Macarons are baked and cooled, try to find size-matching pairs, each constisting of one round and one bear-shaped half.
Now we work on the snout. Make an icing out of 2 tsp dark cocoa powder, 1 tsp confectioners sugar and 2 tsp water. It should be thick and not too runny. Using a toothpick, draw a tiny hart onto the middle of the tiny white macarons you made in the first step. Draw 2 outward pointing arcs beginning from the lower part of your heart and you're done. Leave the bear snouts to dry and prepare some white icing for the details and to glue the snouts onto the bear faces later.
Mix 3 tsp confectioners sugar and 2 tsp and add a white dot to the center of the ears. You can also glue Nonpareilles onto the icing, however you like. Then use the icing to glue the snout onto the face. Last use the toothpick and the dark icing to draw 2 small eyes and ta-daaaaah: Really cute care bear face! Leave them to dry completely while you prepare the fillings.
To use up the leftover egg yolks I can recommend to make a quick lemon curd: Weigh the yolks and add the same amount of each sugar and lemon juice. Heat over simmering water until the core temperature reaches 85° C, then spread through a sieve on the same amount of butter. Use a hand blender to work in the butter, but keep it horizontal to prevent to beat in too much air.
For the strawberry and pistachio filling I prepared a regular buttercream. Half of it I spiced up with pistachio paste (blend 100 g pistachios with 2-3 tbsp almond syrup). For the strawberry filling I cut 2 hands full of strawberries into small chunks, piped a rim of buttercream on the base of the Macaron and stashed a few chunks in the middle. Fill all the bases according to their colour and carefully add the bear shaped top, make sure the filling spreads evenly to all sides. Stack the Macarons into a cake or cookie tin, separated with parchment and let them sit in the fridge over night for maximum flavour. And now let's all chant: "I want to be a Care Bear, oh it'll be so great…"