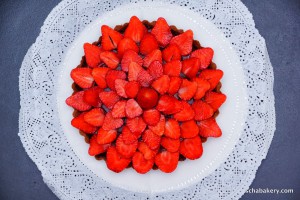 I am a summer kid, born in June and being in love with the season is in my DNA. I don't like it particularly hot, so the beginning of summer is the best time of the year for me. It's when you can get regional asparagus and strawberries on every corner around where I live and I can't think of anything better. Strawberries have always been my favourite fruit and I could never ever overeat on them. Technically strawberries are not fruits. But they are high in fibre and contain a lot of antioxidants that presumably help against inflammation & cancer, and nonetheless they are simply delicious! When it comes to strawberry cake I prefer the simple option: sponge, generously topped with strawberries and a touch of glaze. I don't turn down some fresh whipped cream on top, who could deny that?! But unlike pure strawberries I can't eat all the same cake all the time. Sometimes I need a little twist, so I came up with the idea of a dark chocolate tarte to accompany my favourite fruits. I especially like the combination of the slightly bitter chocolate with the sweet fruitiness of the berries, a combination to win a spot in my heart!
Chocolate tarte (taken from Christophe Felder's Patisserie book)
95 g confectioner's sugar
30 g ground almonds
150 g soft butter (at room temperature)
10 g vanilla sugar
1 egg (at room temperature)
225 g flour
1 tbsp dark cocoa powder
a pinch of salt
Soften the butter with the flat beater attachment of your mixer, sift in the confectioner's and vanilla sugar and mix to combine. Add the egg and carefully blend it in. Last sift the rest of the ingredients and knead to a smooth, soft dough. Don't over mix, that will lead to the dough shrinking in the oven later. Roll out between freezer bags to the rough shape of your tin. I used a 23 cm round tarte tin with loose bottom, so my round has about 25-26 cm diameter to fin the tin base plus side rim. Let the dough rest in the fridge for 2 hours. Once the chill time is up, preheat the oven to 175° C with fan. Grease your tin and lightly dust it with flour. Peel off the freezer bags of your round, align it on one side and bring it into the pan without pushing it too much. Top with a large square of parchment and fill with pie-weights, then bake in the hot oven for 15-20 minutes. Remove the beans and let cool in the tin on a wire rack for 10 minutes, then carefully remove from the tin and let cool completely.
Topping
200 g good quality dark chocolate (I prefer >50% Cocoa Belgian Chocolate)
200 g cream (cold)
300-500 g Strawberries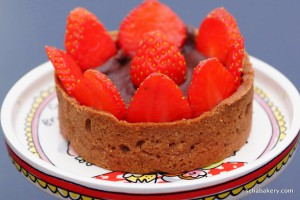 Melt the chocolate over simmering water or in the microwave, let cool until lukewarm. Beat the cream until stiff and fold in the lukewarm chocolate. No magic added here, this is your wonderful bittersweet chocolate filling. Remove the strawberry stalks and slice them in even slices. Fill the cooled tarte evenly and place strawberries decoratively on top.
You can also leave the strawberries unsliced and decorate with the whole fruits. And you can also make smaller tartelettes, just make sure to reduce the baking time to 10-15 minutes then. I hope you enjoy the tarte as much as I do. Have a wonderful rest of the beginning of summer and remember to never ever let the weather drag you down; summer starts in your heart!