I usaly don't make promises, but if I do, I keep them, no matter what. That sometimes ends in last minute shopping just minutes to midnight and endless hours in the kitchen to get things right, especially when foolproof recipes fail in the first attempt. But I like to be challenged because it is the only way to push your boundaries and to better your best. There are a few people in my live that seem to have a greater trust in me than I have myself. I have this one colleague, I like to refer to him as "the nag", who keeps pushing me and seems to have an unlimited belief in my baking skills. He once told another colleague that I make fantastic Macarons even though I never made them before and he didn't know. But he extrapolated from the given data (all the cakes and stuff that I brought to the office over the year) that I must be capable of making soft French Macarons, to me the Queen of baked goods, naturally. When someone you hardly know believes in you no matter what, you start to believe that the people close to you also might have a point apart from pampering you because they like you and finally, you start to believe in yourself.  I'm blessed with a wonderful family and awesome friends who give me honest and mostly good feedback all the time, but still it is this nag who pushes me over the edge and makes me bake even braver.
His newest request were Pains au chocolat, which requires making French Pastry from scratch. I must say I was a little scared off at first, but then I realized that's exactly what makes you grow. There has been a lot of buzz around homemade puff pastry in the blogosphere, I studied a lot of different recipes and then decided to stick to my pink playbook, Patisserie by Christophe Felder. Partly because I trust this book to bring out fantastic treats and partly because I promised in my 2015 forecast.
The book is written in lessons, building the basics with tartes, desserts and decorations before mixing up the former to fancy but classic cakes consisting of several components. A chapter on Chocolate is followed by christmas bakery and finally my special friends: Macarons. It closes with Brioches & Pastries and Petit Fours. I wanted to tackle Lesson by Lesson from the start, but decided to ditch this approach because the first lesson is a Plum Tarte. Why? Because I think a bake needs to fit the occasion and the season.
I have made various recipes from this book, most of them turned out fantastic and I love to challenge myself with these lessons. The only thing that drives me insane are the water measurements. Seriously, the recipes call for exact egg-measures in grams and then use a volume measure in ml for water?
In the Patisserie Course I attended Florian Köller said:
Baking is just Chemistry and anyone is capable of making a cake that tastes good when you stick to the recipe, but to make perfect fantastic cakes you need to pay attention to all the details.
And I know it is all in the details, so not weighing liquids sounds like treason to me. I know that everything is well balanced and to the point, but still I get the feeling from time to time that my 250ml of water are just not accurate and the consistency of a dough is wrong. In general a little more precision would be helpful for me as I try to learn basics from the book. I prefer exact mesures or temperatures over "a dash of" and "until it thickens" anyway. And precise measures give me a good feeling of how something should smell, taste and feel. But however this book is also written to please those at a beginner level so I won't complain too much. I already learned a lot from this book and I wouldn't want to miss it on my shelf.
As the Croissants are already level 158, the description is long and well illustrated with pictures. Especially for the folding part this was very helpful. Lazy me did not take pictures of the whole procedure, but I found this very nice set of photos along with the recipe and directions on Road to Pastry blog.
I made my dough the day before and let it rest in the fridge overnight. I advise you to skip this if you want to eat the Croissants in the morning as the dough needs to come to room temperature for about 45 minutes before it can be rolled, trimmed and the Croissants can be formed. The ready made pieces of pastry then need another 2 hours to rise before they can go into the oven. So you might end up starving if you let the dough rest overnight when you want Croissants for breakfast.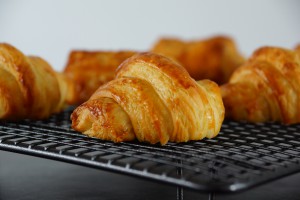 So how to proceed once your dough has come to room temperature? Flour your work surface and roll the dough to a large rectangle with 4 mm thickness. Cut in half lengthwise and trimm the edges to make perfect rectangles. Then cut one of your rectangles into triangles with a base of about 5 cm. Start to gently roll up small Croissants from the base towards the tip. Place on a baking sheet lined with parchment with the tip facing down. Leave them some room to rise and let them rest in a warm place for 2 hours. 20 minutes befor your 2 hours are up, preheat the oven to 180° C with fan and brush the croissants with egg wash (1 Egg lightly beaten) and leave to rest until the 2 hours are up. Bake in the oven for 12-15 minutes until golden brown.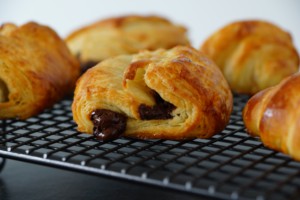 The other half of the dough I turned into Pain au chocolat, just cut into same sized rectangles with 5 cm width and filled them with 2 stick-shaped pieces of dark chocolate. I cut the sticks of a big block of dark belgian chocolate and placed 1 at the edge of the rectangle. Roll in the first stick before you add the second one and then completely roll up the pain au chocolat (The Road to Pastry also offers a great set of explanatory pictures, too). Place them with the seam down on a baking tray with parchment, leaving them room to rise, too. Cover them lightly with clingfilm so they don't dry out and also let them rest for 2 hours. Again 20 minutes before your 2 hours are up preheat the oven, brush with egg wash and bake in the preheated oven for 12-15 minutes until golden brown. Monsieur Felder advises to turn the tray by 180° after half of the baking time.
Croissants and Pain au chocolat should be served after completely cool but I like them still a bit warm. The unbaked croissants/pain au chocolat can be frozen and then be thawed overnight on a covered baking tray, to bake them fresh in the morning.
I really enjoyed making this pastry and though I was a bit scared by the amount of work, in retrospective I must admit it was worth every minute. So I hope my people keep pushing me out of my comfort zone bit by bit and keep challenging me to become a better baker and person.