What is a friend? I have been reading through various definitions and they are all true, but in the end it's up to you how you define friendship for yourself. A common belief about Germans is, that they don't make friends very easily and if they do it lasts for a lifetime. I know a lot of people still being besties with their kindergarden or grad school friends, I for my part must say I haven't seen those friends in years and that's perfectly fine. I have never been one of the cool kids, I've hung out with different groups of friends and never belonged there for too long. Luckily the pace has slowed down, making new friends becomes harder when you grow up, and sometimes I envy those who have friends they grew up with and still nurture a friendship that roots deep.
I happen to have exactly 1 "old" friend, we met when we were both 16 and she was dating my older brother. Although it didn't work out with them, it worked out with us. We've been friends for half our lives, even though we lost contact when she moved across the river to study in Mainz and finally found each other after some years on facebook… In the meantime she had travelled the world and was on to decide what to do with her life while I had my first job after I graduated. She studied abroad, made friends around the globe, actually is still friends with her grad school bestie and I envy her for all that.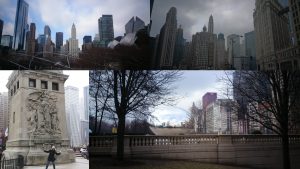 Friends with friends from around the globe make every birthday party and BBQ a very international thing and that's how I met one of her college friends from Sac State. Apart from the love for Sushi we three shared good conversations and even better laughs. In January 3 years ago we met in the secret capital of the world, Kleiningersheim, to have a blast of a weekend. One day after the anniversary of our fabulous hat-selfie we reunited at Chicago airport to invade the province of Iowa and show them how to have the time of their lives.
When we flew over, the only thing the American amiga asked for were pretzels and Spundekäs, a cheese-based dip. She lived in Germany for some time and her heart has the shape of a pretzel. Since the dip wouldn't survive the long plane-trip and the pretzels wouldn't last forever I figured it would be better to learn how to make pretzels myself and teach her. It is easy to bring something to satisfy a craving, but the more sustainable approach is to teach others how to make their own with what they have at hand. So this goes out to all the Americans that miss a good German pretzel and Spundekäs.
I arrived to a Martha Stewart Magazine on the table, picturing Martha Stewart with a frozen smile and a not corretly pretzeled pretzel… Martha is royalty, but when it comes to pretzels, we all know this: GERMAN PRETZELS ARE THE BEST! The secret is in the lye, it makes German pretzels crisp and dark brown.
I couldn't help but re-enact the scene when making pretzels in my friends kitchen the next morning, Sorry Martha!
For the Pretzels:
400 g flour
225 ml lukewarm water
1/2 pack active dry yeast
1 tsp sugar
1 tsp salt
1 liter water
50 g baking soda
coarse salt, roasted pumpkin seeds to decorate
Place the flour in a bowl and make a hole in the center. Add the lukewarm water in the middle together with the dry yeast and the sugar. Sprinkle the salt on the outer rim, not with the water and yeast. Cover with a clean tea towel and let the yeast work it in a warm place for 15 minutes. Knead to a smooth dough, it takes a bit and might be a little sticky in the beginning. You might be tempted to add some more flour, but first keep kneading until it all comes together. If it's still sticky then, you can add another touch of flour. Cover the bowl with the tea towel again and let the dough rest in a warm place for 60 minutes. If you want to enjoy fresh pretzels in the morning you can also let the dough rest in the fridge overnight.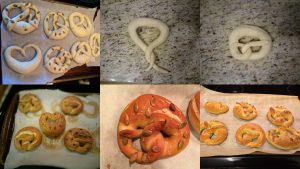 Preheat the oven to 220°C/425°F and line a tray with baking parchment. Take a piece of dough, somewhere in the middle between a golf and a tennis ball in size, roll it out to a long string that is slightly thicker in the center than out on the ends. Now take both ends, pulling them towards you, twist the ends around each other twice and fold away from you, slighty pressing the ends down on the bigger part of the string. You can also bring the ends together and make a heart shaped pretzel if you like. Make sure you cover the already formed pretzels with a tea towel while you form the next ones. Once you have shaped them all, bring to boil 1 liter of water and add the baking soda once it's boiling. Make sure your pot has some room, because the soda will make it bubble. Turn off the stove and lower your first pretzel into the lye-mix, let it brew in there for 30 seconds, carefully dunk it in if it floats. Get the pretzel out with a skimmer, let it drain and place it on the lined baking tray. Decorate the wet pretzel with coarse salt or seeds and proceed with the next one. Once they are all bathed, the tray goes in the oven for 15 minutes. If you can get your hands on foodgrade lye make a 4%-solution with water and bath your pretzels in there. That'll give them more of the typical crispy dark brown surface.
For the Spundekäs:
500 g Quark (you may find some in wholefood markets by the mascarpone/yoghurt) or Fage greek yoghurt 0%
400 g plain cream cheese
1 small onion, chopped
1 tsp paprika powder
salt & pepper
Chop the onions into really small pieces. Mix all ingredients well with a spoon and let it sit for a bit for the flavour to develop. Dip your pretzels in it or use as spread.
If you have never heard of Quark before, it is a kind of cheese and consistency-wise somewhere between yoghurt and cream cheese. In Germany it is also often used in baked goods, such as cheesecake. If you can find quark, always opt for quark. However since is hard to find and rather pricey, the Fage is a good substitution in the dip.
Most of the pictures above are curtesy of my friend who is pretzeling all the time. I'm so happy I could learn you something 😉