Yes, I'm trying to be punny here. But this is as good as it gets right now. I have been troubled with baking and writing reluctance for a while. I tried a lot of things, all those pieces of advice you get from fellow bloggers, friends, family and professional writers. It seems that nothing could help me, neither letting it be, taking a break nor just forcing myself. I have had a lot of those phases before, where I couldn't bring up the time or the energy to write. It simply wasn't my priority then. But this time it's different. I know I want to go on with this blog, but don't really know what to say any more. Writing mostly came easy to me as soon as I sat down to do it, with every recipe there was already a story on my mind. A memory, a person, something I wanted to share with the world, to explain why I did what I did, to make my readers see and feel what I felt. Baking was some sort of therapy for me, a way to cope with stress and demotivation. When in the kitchen and whipping up some bake, I could live out my creativity, not just follow a recipe, rather give them my own twist and create something. It seems that this vibe is gone on most of the days, things don't come easy and even when I put much effort it doesn't feel right. But on rare occasions like today, my mind is open to be touched by the muse…
A baking Mashup to go with the game
As some of you might have heard, the European Championship in football (aka Soccer for my American readers) is on. Since I have a major crush on Ireland I also watch their games, like this afternoon, when they were playing against Belgium in Bordeaux/France. I put on my jersey, set up in front of the TV, when the hunger for cake kicked in. While the pre-game talks were still on, I wandered over to my baking book shelf to look for a sponge recipe to make a base for the strawberries I bought. And there it was, the Mashup cake book… I must say, I love mashups. Not just with music, also with food. I flipped through the pages and came across a recipe for Eton Mess Eclairs. How cool is that?! And how fitting?!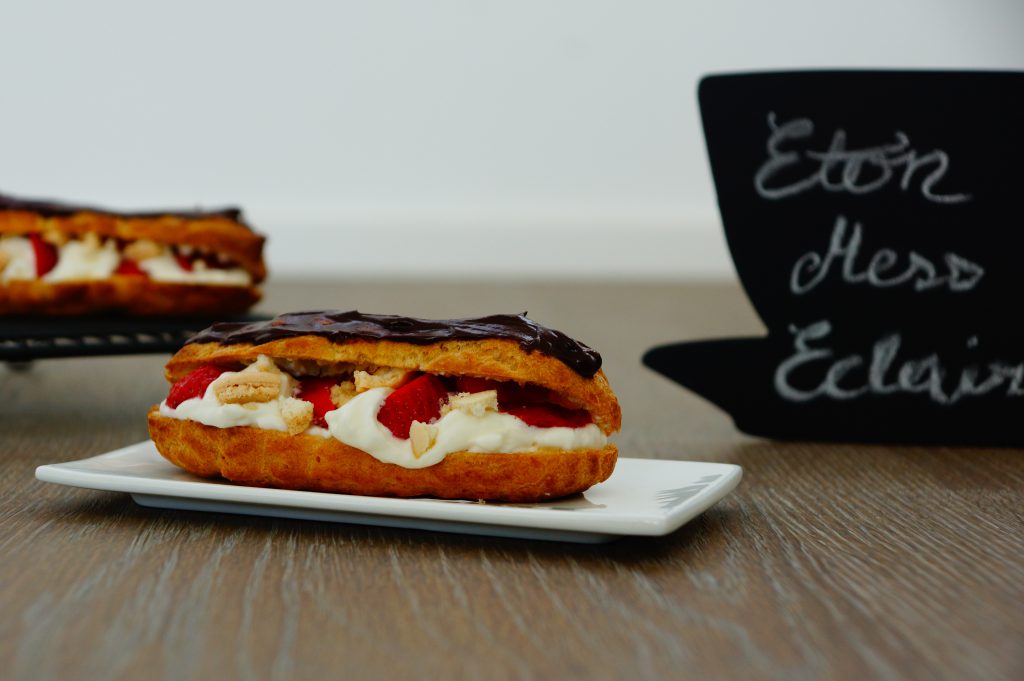 I know that Eton Mess is a thing from England, but since my England experience is limited (only been there on student exchange for a bit) and I first got to know Eton Mess in Ireland, I thought this to be the perfect mashup for the game: French Eclairs as a vessel for a dessert you find on a lot of Irish menus, topped with some Belgian chocolate. When the pastry calls, I need to answer. So proudly presenting you todays culinary endavours, including my first attempt on choux pastry.
For the Choux Pastry:
50 ml water
50 ml milk
50 g butter
70 g flour + a pinch of salt
2 eggs, slightly beaten
Preheat the oven to 180° C with fan and line a baking sheet with parchment. Place the water, milk and butter in a pan over medium heat. When the butter is molten, increase the heat and bring the mixture to boil. Remove from heat and sift in the flour, combine with a whisk until it all comes together. Place over low heat for another minute, constantly moving the mass. Remove from heat again and add half of the beaten egg. Use a wooden spoon to work it in, then add the rest of the egg and stir until it all comes together to a smooth and silky mass. Transfer into a piping bag with either a round or a star tip. Pipe a 15-20 cm line onto the parchment, this should make about 6 big Eclairs or 9 smaller ones. Bake in the hot oven for 25 minutes until golden brown on the outside. Remove the baking sheet from the oven and let the Eclairs rest on the sheet for a few minutes before you transfer them onto a wire rack to cool completely.
For the Eton Mess and decoration:
200 g cream
a handful strawberries, chopped
a handful meringues, crushed (I used Vanilla Macaron shells without filling)
75 g Belgian chocolate
1 tbs milk
The good thing about Eton Mess is, that you can put in, whatever you have at hand. Just make sure you have something fruity and something crunchy. Cut the cooled Eclairs halfway through with a knife. Melt the chocolate over simmering water or in the microwave, then combine with a tbs of milk and spread over the top of your Eclairs. Whip up the cream until stiff.
Push the Eclair open, fill with cream and strawberries, sprinkle with crushed meringues and enjoy!