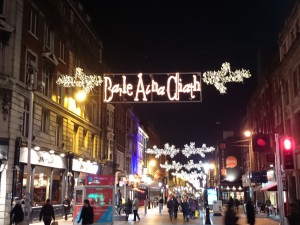 Dublin makes it easy to fall in love with, my heart was lost the second I set foot out of the airport bus:  the cobbled streets, the lovely & colourful storefronts and the friendliest people in the world. Dublin is a young, hip, colourful and vibrant city with a fantastic energy. Better not miss it!
It was 2009, just a few days after St. Patrick's Day and we were welcomed with bright sunshine and 25°. We stayed in a run down Hotel in Temple Bar, noisy with a dripping tap and only cold water in the shower, but that couldn't keep us from having a great time. We took a stroll around town, shopped on Grafton Street, had a sandwich on a sunny bench in St Stephens Green, took a trip to the Guinness Storehouse to learn how to pour the perfect pint, we hit the Pubs, always ending up in Palace Bar on Fleet Street, and experienced the Irish hospitality and kindness. It is impossible to chat with complete strangers in a bar at home, not to think of buying them a round of drinks. But this is completely appropriate in Ireland, cause strangers are friends you haven't met yet. The Irish really live up to that saying. Though the economy was in a very poor state back then and a lot of people lost their jobs, they never lost their craic and fun. I envy them for their positivity, Germans tend to see the glass rather half empty. After a few days in the city we took a bus outside of town to check out the Wicklow mountains. Beautiful landscape, hundred shades of green that you only find in Ireland and the friendliest people in the world. And that's when we decided we need to make this an annual trip!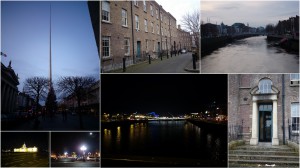 We made it our tradition to fly in for Christmas shopping, something that I am looking forward to the whole year. Lately I read that Dublin at Christmas is like stepping into a Christmas card. That describes very well how I feel about the city, especially around Christmas. The festive spirit, the decorations, the shopping windows and the bright lights even in the smallest back street get me into the mood and it's beginning to look a lot like Christmas.

I love this town for what it was and even more for what it has become. 

You can see that the Irish economy is picking up again, a lot of new businesses, more shops and  shoppers on the high streets and even in the smaller side streets. Some of these side streets were a little scary back in 2009 and I'd rather not go there alone in the dark. Now, only 5 years later, all those before shady streets are full of shops, cafes, restaurants and people. It makes my heart jump to see the situation improving even more each time I come round to visit.
With all those emerging culinary hotspots, I needed new sources of information about what's good and what's not, because we only have limited time in town. I started following a few Dublin based blogs such as Frenchfoodie in Dublin, The Dublin Diary, Kate's Kabin and Lovin'Dublin to get  more insights. It kills me to read about Dublin most time of the year, but the closer our Christmas trip comes, the more I dig myself into these blogs. It is funny to wander a "foreign" city and to recognize restaurants and tell what food they serve and who recommended it even though I have never seen or been to this place before. I made a Pinterestboard to keep track of all the places I want to visit, the Mister trusts me to pick the good ones and I don't like to disappoint him. Even though some of the places are not as good as they used to be or not as good as in my memory, I love checking out new stuff while also sticking to some familiar places.
Here's a short summary of our trip packed with pictures and memories, enjoy!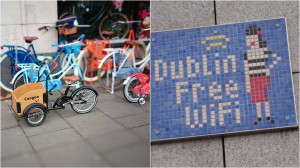 Saturday: We arrived in town and hit the streets directly after dropping off our luggage. Instead of taking O'Connell-Bridge as always, we turned right towards Ha'Penny Bridge to check out the new shops on Bachelors Walk. I was curious to sneak into Decocraft and Decobake that sell just what this girl needs. It is great to see so many shops open on that short strip of waterfront between O'Connell and Ha'Penny bridge, I don't remember it being this many same time last year. I browsed around in Decocraft and directly found something I liked. I walked up to the counter to ask for the price as it was not labelled and was directly dragged behind it to try out knotting a bracelet. They also give classes and they have a tiny coffee bar with fantastic salted caramel cookies. We also looked around in Dekobake and I made a huge list of stuff to buy later on our way to the hotel.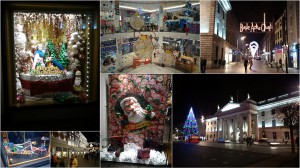 I hadn't crossed Ha'Penny bridge for ages (last time must have been 2011) but I directly noticed that they again removed the love locks and tried to cover up the damages those locks left. Walking through Merchant's arch, making our way through busy Temple Bar on a Saturday afternoon, crossing Dame St on red lights towards Suffolk St to give Molly Malones a quick heads-up at her new home outside the tourist office, that gives me a cosy feeling of coming home (sort of). We were checking out the decorated windows at Brown Thomas on Grafton Street, buying expensive creams at the freshly opened Molton Brown store, seeing every female of any age group sing along to "Let it go" in Disney Store when hunger caved in. We fought it with a Reuben and a Holy Cow sandwich at the Bell & Pot (not as good and huge as last year) before we headed back to our hotel in the Northside of town.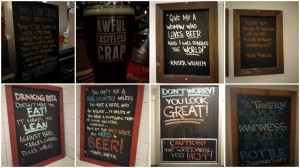 That night we wanted to try a new pub and as the Mister recently is into craft beer, we decided to find the Brew Dock close to Connolly Station. We tried ourselves through their broad range of awesome craft beers (I especially liked the "buried at sea"), had a nice chat, learned some Welsh (Iechyd da!) and laughed at those funny mismatched quotes.
We also saw a larger group of Ladies wearing Christmas sweaters with lights, drinking pretty fast and leaving early (which is kinda irregular), the next day we found out that this is part of an Irish Christmas "thing" called the 12 Pubs of Christmas: Grab some friends with Christmas Jumpers or a group costume and visit 12 Pubs in 1 night. And yes it is necessary to have an alcoholic drink at each of them. As Pubs in Ireland are closing earlier than in Germany, this really puts a lot of time pressure on the contestants and almost guarantees a massive hangover the next day. But that is nothing a Brunch for Champions can't fix and in Dublin there are a lot of good brunch opportunities.

Sunday: We skipped breakfast and just shared a scone because Sunday was the Frenchfoodie in Dublin (FFID) Christmas Food tour day. We wasted some time on Grafton Street and adding items to my shoe and shirt collection before heading to the meeting point at Powerscourt Shopping Center. I was looking for a red beret, but there was just a lady with a white cap carrying a baguette dressed in a Santa coat (the bread, not the lady). We introduced ourselves and found out, that this tour was rather special as Mr FFID himself was also joining. Together with an Irish couple that moved from Dublin to Cork and an American couple that moved to Dublin from Chicago, Mr FFID and of course Ketty our group was complete. Usually there are no tourists on the group, so don't worry Dublin folks, we just sneaked in. I was surprised to hear that Ketty thought we lived in Dublin, I wish…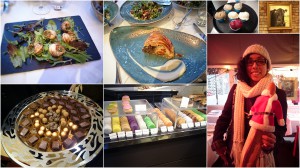 We started off with lunch at La Maison, a nice and cosy French restaurant on Castlemarket Street. The Amuse-Bouche were -who would have guessed that- snails. I happily skipped them as I tried before and didn't like their mushroomy texture (I just hate mushrooms…). Before the main course arrived, we learned from each other about the particular Christmas traditions of each country and family. We all burst into laughter when Mr FFID told us the story of his first French Christmas and how he ended up underneath the table. The ice was broken and served with Calvados and a slice of apple as Apéritif. Then they brought the mysterious main course. It was kind of mysterious to us as we are both not native English speakers and we had never heard the words "pheasant" (which was rather easy to guess) or "game" in terms of pie filling before and were both too shy to ask. The pie was served with redwine-jus and a lovely side salad and was delicious.
Next on we followed the Christmas Baguette to the upper floor of Brown Thomas in Grafton Street for an Artisan du Chocolat tasting. We tried ourselves through salted caramel pearls, chocolate covered ginger, raspberry and lavender chocolate ganache pralines while listening to the history of the company (I ended up buying salted caramel pearls & sauce and a lot of chocolates btw…).
After being stuffed with chocolates we went on to more dessert because there is always room for icecream isn't there? We hit Murphy's on Wicklow Street and tasted us through there range of flavours, some christmasy and almost all others. I especially liked the Irish Coffee and Orange Marmalade, while the Mister preferred the Dingle Gin (such a shame it is not on sale any more) and the Caramelized Brown Bread flavour.
A short stroll from the Icecream Parlour lies Cocoa Atelier in Drury St where we had a hot chocolate and bought some Macarons as Ketty told us those were the best in town. And if you know me, you know I love Macarons. 
I took a Salted Caramel Macaron home that was good, but I must confess I expected more of the "bursting flavour" that Ketty promised.
Our last stop was Sasha Petite Pastry Bar, also located in Drury St, where we were supposed to have our last treat, a Bouche de Noel. I couldn't eat any more so we had ours packed for later. Back in our Hotel after a short nap I enjoyed the French-Irish Crossover Bouche de Noel with Carrot Caramel flavour. It might be due to all the chocolate and Icecream, but the Bouche was just too sweet for me.
I had a blast on this tour and I can recommend it to anyone who likes French food and great company. Ketty is a nice host and the food was lovely. We also gained some more insights on culinary hotspots and visited most of the venues the next day for a treat or two 🙂
That night we spent on the Christmas market at St Stephens Green, but I am afraid it is not comparable to Christmas Markets here in Germany. The Irish try hard I must say, but they are kinda lacking the spirit of a German Christmas Market. I liked the booths and some of the stuff they were selling, but it was either mass market crap that you can buy anywhere or too "hipster" in my opinion. We sure also have that crap on our Christmas markets, but there are also a lot of people selling unique and handmade things like jewelry, Christmas decorations, teddy bears etc.
Food and drink wise there was no large variety. There were 3 of-the-same-kind burger booths and it was impossible to stand close to them as thick smoke filled the air. We found some nice but pricey homemade Chilli, perfect to weigh up all of the sweets we ate that day. But still the market didn't get me into the right Christmas Market mood. We had a mulled cider and wine, served in plastic or paper cup but without the festive feeling I get at home. That is kind of weird because we fly in every year to get ourselves into Christmas-mood because the Irish are so Christmas-crazy, but that somehow does not apply for their Christmas markets… Such a shame. On our way back we enjoyed the lovely decorated streets & shopping windows and some live music on Grafton Street, another thing I love about Ireland: amazing Street Musicians and bands!
Monday: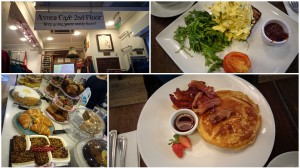 Our trip wouldn't be complete without a compulsory breakfast at Avoca on Suffolk Street. I have 4 words for you: Pancakes with crispy bacon. Although it may sound like a very weird combination it totally makes sense in your mouth. 
They also have a delicious variety of baked goods, all looking scrumptious and promising. I bought their Tea Time Book some years back and my favourite Carrot Cake is in there as well as these Scones.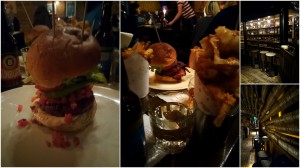 After extensive retail therapy we found ourselves ready for a burger and a beer. We dropped in to Jo'Burger Town, just opposite of La Maison, the French Restaurant we visited on Sunday, and Number 2 on Lovin Dublins Hitlist of the Best Places to have a burger in Dublin. We both had a massive burger (how is one supposed to eat all this?!?) with chips and onion rings (why the hell did we order ANY side dish?!).
It ended in a food coma and we were craving a Digestif. Still impressed by yesterday's Dingle Gin icecream, we headed to the Dingle Whiskey Bar on Nassau Street for a Dingle Gin. The Bar is -to my surprise-  directly connected with the Porterhouse Pub, but rather quiet with only a few snugs and tables made out of casks. I also liked the wall-decorations made out of casks and especially the enormous, impressive whisky selection. At least one of the guys behind the bar was very knowledgeable when it comes to Whisky and made some good recommendations. And of course we had a Dingle Gin. I must confess, I am not so much into Gin, I am more of a Whisky person. The Mister recently developed a thing for Gin (this makes my built-in Hipster alert go off), so I tasted a few, only except Feel! Gin (Munich) and the Dingle Gin made it to the very short list of Gin's that I like.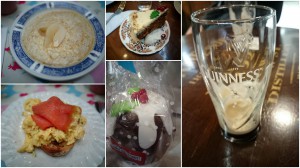 Tuesday: We started with porridge and scramled eggs at the Pepper Pot Cafe in Powerscourt Shopping Center (thanks FFID for the recommendation) and went on to soak up the wonderful spirit of Dublin before heading back to the airport. We both are still amazed by how this city has developed, we walked down memory lane and admired all the new shops and cafes that popped up. We found ourselves walking up Cows Lane and decided to pay the Queen of Tarts a visit. Reality kicks in from time to time and blows up some beloved memories. I loved this cake so much, every single time I was in Dublin I had one, but this time something was wrong: It was good BUT I like mine much more! Could it be they changed the recipe? Or is it me that changed?
It was almost time to say our good bye to this wonderful town. At the airport we met lovely Niamh (Perfectionist Confectionist) to receive our own piece of Christmas decadence: A Belgian chocolate Christmas Pudding. I had only seen these last year on her Facebook along with other pieces of Cake art and wanted my own this year: Scrumptious! Off we went after our first and last Guinness of this year in Ireland at the airport.
See you next year my love!
*no one paid me to write about any venue or meal, I paid for all of it and it was worth every Cent! :)*