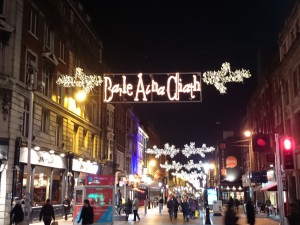 Dublin makes it easy to fall in love with, my heart was lost the second I set foot out of the airport bus:  the cobbled streets, the lovely & colourful storefronts and the friendliest people in the world. Dublin is a young, hip, colourful and vibrant city with a fantastic energy. Better not miss it!
It was 2009, just a few days after St. Patrick's Day and we were welcomed with bright sunshine and 25°. We stayed in a run down Hotel in Temple Bar, noisy with a dripping tap and only cold water in the shower, but that couldn't keep us from having a great time. We took a stroll around town, shopped on Grafton Street, had a sandwich on a sunny bench in St Stephens Green, took a trip to the Guinness Storehouse to learn how to pour the perfect pint, we hit the Pubs, always ending up in Palace Bar on Fleet Street, and experienced the Irish hospitality and kindness. It is impossible to chat with complete strangers in a bar at home, not to think of buying them a round of drinks. But this is completely appropriate in Ireland, cause strangers are friends you haven't met yet. The Irish really live up to that saying. Though the economy was in a very poor state back then and a lot of people lost their jobs, they never lost their craic and fun. I envy them for their positivity, Germans tend to see the glass rather half empty. After a few days in the city we took a bus outside of town to check out the Wicklow mountains. Beautiful landscape, hundred shades of green that you only find in Ireland and the friendliest people in the world. And that's when we decided we need to make this an annual trip!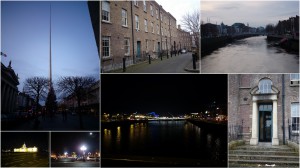 We made it our tradition to fly in for Christmas shopping, something that I am looking forward to the whole year. Lately I read that Dublin at Christmas is like stepping into a Christmas card. That describes very well how I feel about the city, especially around Christmas. The festive spirit, the decorations, the shopping windows and the bright lights even in the smallest back street get me into the mood and it's beginning to look a lot like Christmas.

I love this town for what it was and even more for what it has become. 

You can see that the Irish economy is picking up again, a lot of new businesses, more shops and  shoppers on the high streets and even in the smaller side streets. Some of these side streets were a little scary back in 2009 and I'd rather not go there alone in the dark. Now, only 5 years later, all those before shady streets are full of shops, cafes, restaurants and people. It makes my heart jump to see the situation improving even more each time I come round to visit.
With all those emerging culinary hotspots, I needed new sources of information about what's good and what's not, because we only have limited time in town. I started following a few Dublin based blogs such as Frenchfoodie in Dublin, The Dublin Diary, Kate's Kabin and Lovin'Dublin to get  more insights. It kills me to read about Dublin most time of the year, but the closer our Christmas trip comes, the more I dig myself into these blogs. It is funny to wander a "foreign" city and to recognize restaurants and tell what food they serve and who recommended it even though I have never seen or been to this place before. I made a Pinterestboard to keep track of all the places I want to visit, the Mister trusts me to pick the good ones and I don't like to disappoint him. Even though some of the places are not as good as they used to be or not as good as in my memory, I love checking out new stuff while also sticking to some familiar places.
Here's a short summary of our trip packed with pictures and memories, enjoy!

 Continue reading »