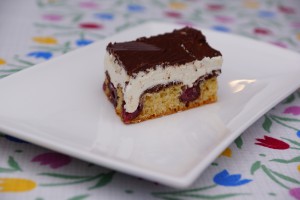 Donau waves are a German cake classic and my Mum's recipe earns a lot of compliments every time, because it is simply the best! The base is a vanilla cream cake, topped with chocolate cake, poked with cherries. On top comes a whipped vanilla buttercream and a dark chocolate glace with a wave-like pattern. The buttercream gives this classic tray bake a decadent touch, but a cake table without Donau-waves is simply unthinkable.
For the dough:
200 g butter (at room temperature)
200 g sugar
15 g vanilla sugar
5 eggs (size M)
2 pinches salt
300 g flour
1/2 pack baking powder
350 g cherries (drained)
2 tbsp cocoa
eventually 1 tbsp milk
Preheat the oven to 160° C (with fan). Drain the cherries and line a baking tray with parchment paper. Soften the butter, then add the sugar and vanilla sugar and mix until creamy. Mix flour, salt and baking powder and sift it in. Stir it by hand and don't overmix. Spread half of the dough onto the baking tray. Sift the cocoa powder into the rest of the dough and mix it, add the tbsp milk if neccessary. Spread the dark dough over the blond dough evenly. Scatter the cherries over and press them in lightly. Transfer to the hot oven and bake for 35 minutes, until a skewer comes out clean. Let it cool completely.
For the buttercream: (this is the easy Version of buttercream with a packet mix, you can also use my secret recipe)
1 pack Vanilla cake cream (Dr Oetker Tortencreme Vanille)
300 ml milk
200g butter at room temperature
Place all ingredients in a bowl and mix due to instructions on the packaging. Edit: Don't follow stupid Dr. Oetker, I did last night and it ended bad – small butter pieces in my butter cream that wouldn't go away! And then I realized that I always do it like that: Soften the butter, then add the milk slowly while mixing and the cake cream powder afterwards. When everything is blended, mix on high speed for 2 minutes. Then spread over the cooled cake.
For the icing:
200 g dark chocolate
50 g coconut fat (Palmin)
Melt the chocolate with the coconut oil and mix unitl smooth. Let it cool until lukewarm and spread over the butter cream. Some take a fork and make a wavelike pattern on top.
When cutting the cake use a hot knive, otherwise the top will crackle and fall into pieces.