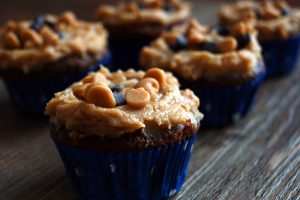 I like classics, I don't need fancy, for me the real beauty lies in doing the simple things right. But sometimes it needs the total extravaganza and this weekend called for it… For a birthday party on the weekend I combined the most delicious treats to this sugar rush: Chocolate Peanutbutter Caramel Cupcakes!
I don't want to babble (I'll do that in a separate post soon or later) so straigtht up to the recipe this time…
1 batch chocolate cupcakes (Drop a piece of caramel chocolate in each cupcake before baking if you're feeling fancy), makes 18-24
For the Caramel Sauce
40 ml water
125 g sugar
1/2 tsp vanilla extract
60 ml double  cream
15 g  butter
a pinch of sea salt
For the Frosting:
175 g creamcheese (at room temperature)
30 g confectioners' sugar
260 g crunchy peanutbutter
1/2 tsp vanilla extract
120 ml double cream
To Decorate
5 pieces of caramel hard candy like Werther's
a handfull of peanutbutter morsels
a handfull of chocolate chips
if you're feeling adventorous: a handful of roasted, salted peanuts
Bake the cupcakes according to recipe and add a piece of chocolate to each cupcake before baking if you like, let them cool completely.
Prepare the caramel sauce first because it needs to cool for a bit. Place sugar and water in a pan and bring to boil over medium high heat. Let the caramel bubble for about 4-5 minutes until brown before you take it off the stove. Mix the cream and the vanilla extract and slowly pour into the caramel, mix to combine and last add butter and salt. You can fill the still hot mix into a sterilized twist-off jar and keep it in the fridge for up to a week. Use it to jazz up your morning coffee and spare yourself the trip to your local coffeeshop…
For the frosting beat the creamcheese and the confectioners' sugar until smooth, then add peanutbutter and vanilla extract and beat to combine. Beat the cream separately until stiff and gently fold into the peanutbutter-mix. Let it set just a little.
Meanwhile coarsly chop the caramel hard candy, mix with peanutbutter and chocolate morsels and set aside for decoration.
Spoon or pipe some frosting on your cupcakes, drizzle a bit of salted caramel sauce over it and top off with the hardcandy-peanutbutter-chocolate mix. Enjoy 🙂