During strawberry season the tiny red fruits form the base of my food pyramid and this has always been like that. I used to fight over the last strawberries that didn't make it on the cake with my siblings all the time and the obligatory biscuit sponge with strawberries, glaze and whipped cream was to be found on the cake table every weekend. In Germany cake or pies are not really considered desserts, they are usually served as an afternoon treat together with some coffee around 3-4ish in the afternoon when the family gathers together on the weekend. When I was a kid there were hardly any weekends without afternoon coffee and homemade cake. As you might guess, strawberry cake was one of the families favourites.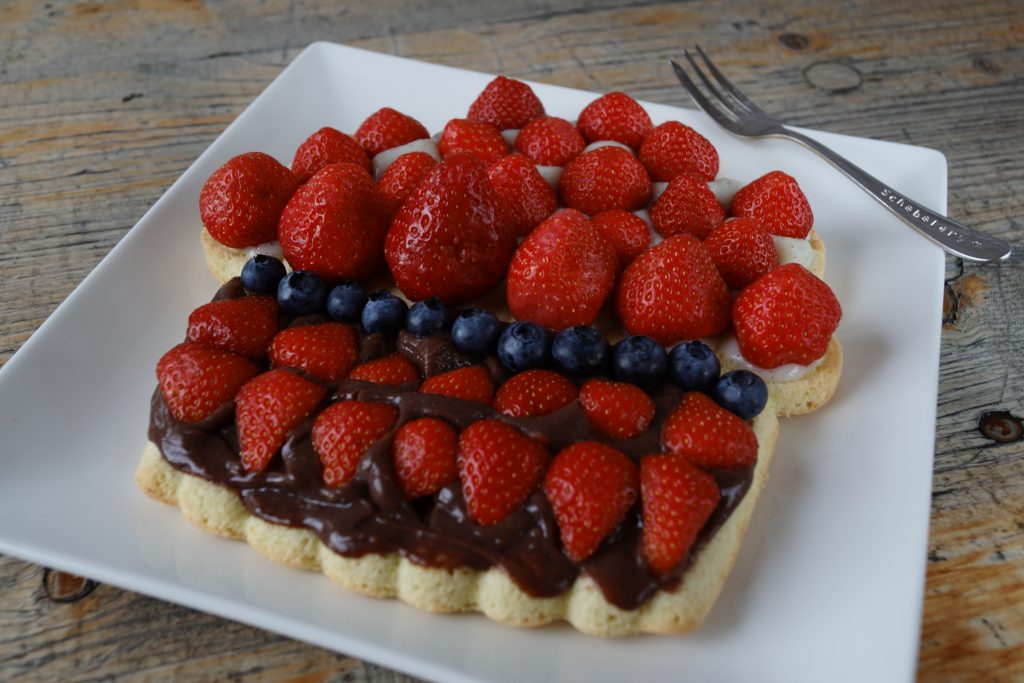 Strawberries are not only delicious, they are low in calories and contain a large amount of vitamins and other minerals. On their own, they make a solid healthy treat, but since life is too short to skip cake, you should allow yourself to indulge every now and then.
Like a lot of things in my life, the idea for this take on a classic German cake emerged form my sheer laziness… I was invited to a bbq and I knew a fullsize cake would be too much, so scaled down the recipe to fit a 20 cm round tin. The tins that are usually used for this cake come with a deeper rim, so that the turned out cake has kind of a border of sponge on the outer rim to secure the strawberries and to prevent the glaze from running all over the place. If you don't have one of those tins you can as well use a round tin and a cake ring. This is where my laziness inventiveness kicked in as the small round tin and the cake ring were floors away in the basement… I found a cupcake shaped silicone pan that I hadn't ever used before in my kitchen cabinet. Since I didn't want glaze all over the place and my friend and bbq-host likes strawberry and vanilla, I decided to secure the strawberries in place with some quick vanilla pudding, which happens to be another German twist for strawberry cake. You can go full custard with egg yolks or simply with starch, that's fully up to you and your preferences. I for my part also added a little dark cocoa in the end to have a two-coloured design on the cupcake-shaped cake.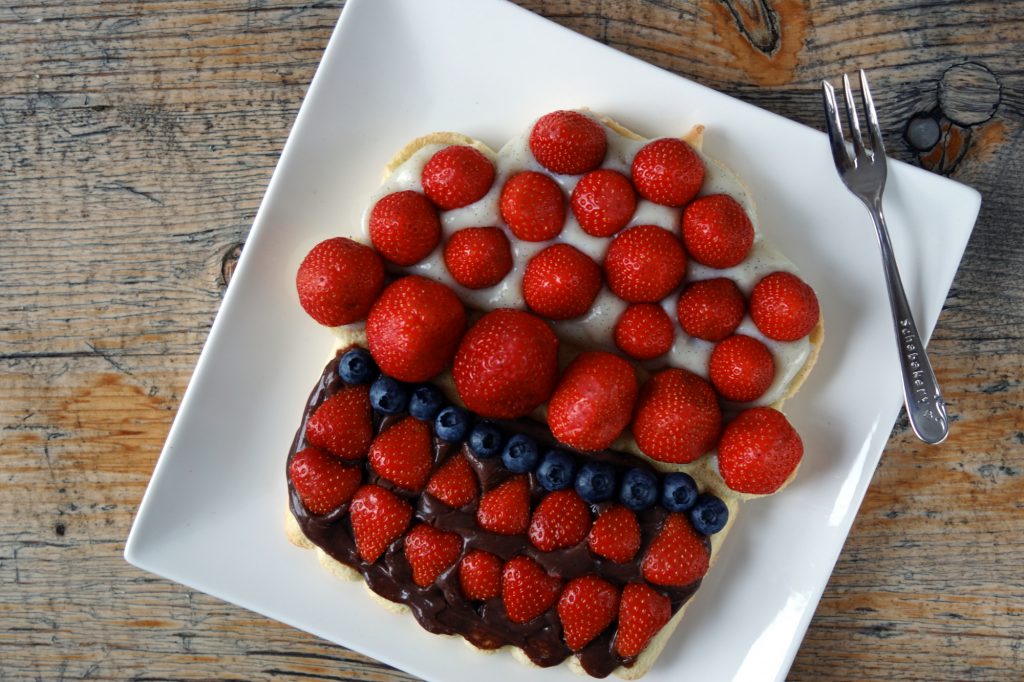 Don't let recipes limit your imagination
I often catch myself limiting others by telling them "baking is easy, just follow the recipe" but sometimes I think to myself that you shouldn't limit your own creativity and be brave enough to experiment. My mind does take turns all the time, I am indeceisive, I want it all at once and I am always up for a challenge. Finding alternatives and new combinations, swap things out and create something new to share, that's what makes baking special for me. I am aware that giving alterations and ideas in between can be a little confusing – side effect of a messy mind – but I really want to encourage each and anyone of you to play around a little and adjust recipes to your needs.
But now without even further ado I proudly present you the biscuit sponge strawberry cake recipe.
For a biscuit sponge with 20 cm diameter (double for 26 cm or triple for full sheet):
2 egg whites
1tbsp vanilla sugar
2 egg yolks
40 g raw cane sugar
50 g flour
30 g starch
1/2 tsp baking powder
I know, I know, a sponge usually is made without rising agent, but for this recipe I prefer to add a little for a better texture. Preheat the oven to 180° C with fan and line/prepare your tin or sheet either with parchment or lightly greased and dusted with flour (I lightly oiled the silicone pan too). In a bowl beat the egg whites with vanilla sugar until stiff, remember to not turn your standmixer to full speed as you want the stiff egg whites to have a silky texture. In another bowl beat the egg yolks, slowly add the sugar and let mix until thick and most of the sugar has dissolved. Sift flour, starch and baking powder onto the thick egg yolk mass, spread the stiff egg whites on top of it. Now slowly fold in the flour and egg whites until it all comes together to a smooth dough. You want to do this by hand with a rubber spatula as the mixer destroys the precious air bubbles that are characteristic for the biscuit sponge. Transfer the batter into your tin or onto your tray and bake for 10-12 minutes. Afterwards let the cake cool on a wire rack for 10 minutes before you can turn it out of the pan to cool completely.
TIPP: You may use the tripled recipe for a sponge roll or roulade. If you do, make sure you have a tea towel sprinkled with caster sugar ready by the time the tray comes out of the oven. Directly flip the sponge onto the tea towel, remove the parchment and gently roll the sponge with the help of the towel. This way the sponge cools "in shape" already and is less likely to break when filled later on
To decorate a sponge with 20 cm diameter:
250 ml milk
1 vanilla bean
2 tbsp cornstarch
optional 1 tbsp dark cocoa powder
400 g fresh berries
Scrape out the vanilla bean and add the vanilla as well as the scraped bean to the milk into a sauce pan. Slowly bring the milk to boil while stirring to prevent it to burn. Once the boiling point is reached, set aside and let cool for the flavour to fully develop. In the meantime wash and pat dry the berries, remove greens and depending on size and desired cake style cut them in half. Next remove the scraped vanilla bean from the saucepan and mix a bit of milk with cornstarch in a separate bowl. Make sure there are no lumbs in your mix. Place the milk on the stove again and bring to boil. Once the boiling point is reached, remove from the stove and stir in the cornstarch mix. The mix should thicken and get a custardy look and feel. Spread half of the mix on one side of the sponge, then sift cocoa into the remaining pudding and mix to combine. Decorate the rest of the sponge with the chocolate pudding. You can of course skip the cocoa and go full vanilla or add other flavours, decorate in patterns, whatever you like, go ahead 😉 Place the berries on top, lightly press them into the still-warm pudding. Chill before serving and that's it. Be creative and show me your results in the comments or on facebook / instagram / twitter if you like.