I came home from Handball one night and was asked if I knew that cupcake show on TV. "It's about two broke girls that bake Cupcakes to become rich and famous. It is hilarious!". I sat down and was on fire instantly.  Okay, the show is a typical sitcom with below the belt humor, but that's what I love about it. And in the season 1 finale they finally meet Martha Stewart in a bathroom and she tries this Beer Batter Maple Bacon Cupcake (watch scene). I can totally feel with these two girls, striving to dream and never give up on it. I don't have the balls to start my own business now, I envy all those people who put everything at stake to follow their dream. But I am not yet ready to quit live as I know it and become rich and famous *lol*.
I do like to play around a little instead, testing my limits and the combination of savoury & sweet is very appealing to me. The idea of something salty together with sweets is inconceivable for many people. While salted caramel is already almost mainstream, the idea of adding bacon to a sweet treat send shivers of disgust through many people. I kind of understand why but you'll never know if you don't try as my Granny used to say. And as we had fantastic pancakes with maple syrup and crispy bacon at Avoca in Dublin, the urge to try the Beer Batter Maple Bacon Cupcakes rose within me. And then last week my fellow colleague told me about his holidays in LA, where he went a shooting day of "2 broke girls". We both saw this as a sign, it is time to do this. Therefore my first blog post for this year is about what makes half of the people ahhhh and the others ewww.
When I was putting the Cupcake itself on my To Bake List, I googled a lot and found not too many recipes. It is rather hard to imagine what a recipe will turn out like, but after some time you get a rough idea on what to expect and in addition you have some personal preferences, that help you decide which one to go for. I like real chocolate, not just cocoa powder. I prefer beer batters with Guinness because it goes well with chocolate. And cream cheese frostings are in favour over American buttercream. That's why I picked this recipe to try. In retrospective I must say that some parts of that recipe should have made me suspicious from the beginning.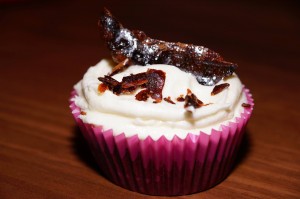 The batter had a really nice consistency, it was not too sweet but as it completely relies on raising agents, the cupcakes were too tiny for me.
On to the topping. Seriously how much are 3 strips of bacon? Is there a bacon strip standard that I don't know about? I took half of a 100g breakfast bacon package I acquired at a German super market and placed it on my wire-rack. Maybe it was because of the fan or the thin slices of bacon but 175°C were just too much, the bacon burned after the first 10 minutes. I reduced the temperature again and tried once more, after 15 minutes I had to remove the bacon from the oven, otherwise I'd have burned it again. Though the Bacon was crispy, salty and sweet I kind of  missed the bacon taste (maybe I'll try some other brand of bacon next time). My tip is to remove the bacon from the wire rack while it is still hot and place it on aluminum foil to cool. Otherwise it cracks and keeps sticking to the wire rack.
The cream cheese buttercream gave me a hard time. I have done this before and I liked that the recipe demanded only 1 cup of icing sugar. Usually those American buttercream recipes are sweet as hell, I rather go for more flavour, less sugar. My butter was already at room temperature but my cream cheese wasn't -d'oh! That always results in crumbles in the butter cream, so I decided to let the mixture come to room temperature before adding the sugar and maple syrup. The recipe also requires bacon drippings but there weren't any (which leads me to the conclusion that there must be something like a American Bacon Strip Standard that I don't know) and the few drops that came down already went solid on the aluminum foil. When I then added the sugar and started beating, the mixture went completely liquid. It could not be spread onto a cupcake at all, even not after 1 hour in the fridge. I added more icing sugar but that did not help either. In the end I almost spend all of my icing sugar reserves until I gave up. Instead I prepared another batch of butter cream with 115 g butter, 400 g icing sugar, creamed together and heated with the hair drier to go white. Once it was combined and smooth I added 2 tablespoons of sour cream for the taste.
The end product itself was rather nifty, sweet and a bit salty and the colleagues liked it. When I do this next time, I'd do something to bring more air into the batter and definitely make more of that bacon, cause there was not enough bacon to sprinkle all of the cupcakes with enough of it.