My health really gave me a hard time in this past year 2013. Also I've done my best to ignore it, my body refuses and partly gives up on me from time to time. This week it was my stomach who refused to let me eat painfree. Luckily there is a pill for everything but sometimes they come with unwanted side effects. Yesterday was Nap-day, I think I had as many naps as a bunny has per day, 17 to be exact. Last nigth and today was rather problematic cause as a side effect of my meds all my muscles decided to hurt like crazy today. I felt like after a constant 2 day workout with a burn in my muscles that just won't stop. I needed distraction and found it in a note that today was national cookie day in whatever country (I guess it's America).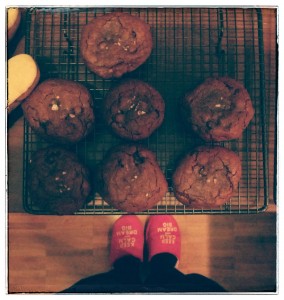 As I did not manage to bake something from the To Bake List in November I found it appropriate, to at least make some new cookies on the cookie day. I decided to give the Salted Caramel + Nutella Stuffed Double Chocolate Chip Cookies I have recently found on topwithcinnamon blog a shot. Izzy is a teenage girl living in London and blogging her fantastic recipes for a few years now. I've been following her on Twitter for a while and saw her video together with the guys from SORTED food and fell in <3 with the recipe. I have to admit I am a huge fan of stopmotion, that was one of the first things I had to do as a semester project for design class back in university and I loved it. Actually my stopmotion semester project also involved cake. We had to make a countdown for movies with stop motion and we decided to let a set of false teeth eat up our cake numbers would make a fantastic countdown. But back to Izzy and her fantastic recipes… She is very inspiring, so young and yet so talented, creative and professional. She has an eye for photos and does explain complicated recipes in an easy understandable way. And she's always wearing funny socks in her pictures and has a great sense of style. And with all due respect I HAD to take a picture with my feet in it, just as she does a lot. (Just a quick shot with the phone as the camera is already boxed…)
I wanted to try out some of her recipes but hadn't had the time yet. Now that I tasted thos really gorgeous cookies, I WANT MORE. The recipe is very easy and fast to do, you don't even need a electric mixer (which my sister will appreciate). I used some Cadbury caramel chocolate that I brought from my last trip to Ireland for the center of the cookies and that worked very well. I made 15 cookies out of the recipe, not all containing caramel chocolates. if you place the salt just on the center of the cookies, above the Nutella, it makes a fantastic taste experience.