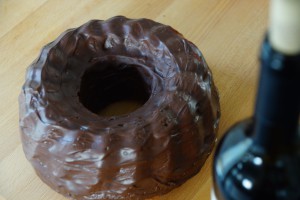 I love boozy bakes! Don't get me wrong I am no alcoholic, but even when I was a child the boozy cakes were the ones I loved the most. It was special when I was allowed to skim the foam of Dad's beer glass or eat a piece of Black Forest Cherry Cake on a birthday, sometimes Mum even poured some advokaat over our shortly microwaved chocolate marshmallows for an extra treat. Whenever there was a bit of leftover red wine, my mother turned it into this delicious and moist cake. I now do this myself whenever we open a bottle we don't like, so the taste of this cake varies with the wine you use, but it is always scrumtious and keeps fresh vor 3-4 days. My sister tweaked the recipe a little with more chocolate sprinkles (who could say no to more chocolate?!?) and I stole it from her so you can also start to save that wine from the drain!For one bundt cake:
250 g butter at room temperature
200 g sugar
1 tbsp vanilla sugar
5 eggs
250 g flour
1 pack baking powder
pinch of salt
1 tsp cinnamon powder
2 heaped tbsp dark cocoa powder
200 ml red wine
250 g dark chocolate sprinkles
150 g dark chocolate, melted + 1 tsp coconut oil to cover the cake
Preheat the oven to 180° with fan, grease a bundt tin and dust it with flour. If you don't use a stand mixer, I advise to separate the eggs, beat the whites until fluffy & stiff and set them aside first. In a bowl cream the butter and gradually add the sugar, whisk until the mixture turns slightly paler. Then add the eggs one after the other (or only the egg yolks if not using a stand mixer) and beat in for 1 minute each. Mix flour, bakind powder, salt, cinnamon and cocoa powder in a separate bowl and sift a third into your butter-mixture. Be sure to now only mix to combine, don't overbeat the mixture. Add half of the wine and mix to combine before you add another third of the flour-mix. Repeat until all flour and wine is in there. Fold in the chocolate sprinkles (and the egg white foam if you separated the eggs) and transfer the mixture into the greased & dusted bundt tin. Bake in the oven for 45-60 minutes until an inserted skewer comes out clean. Leave the cake to rest in the tin on a wire rack for 5-10 minutes before turning it out on a wire rack to cool completely. When your cake has cooled melt the chocolate with coconut oil over simmering water or in the microwave and spread over the cake.You can also cover the cake with a icing made of confectioners sugar and red wine. The cake keeps fresh up to 4 days in an airtight container.