The last post marked the halfway point of the #craicinatlantis roadtrip. For bearing with me here and following along on the new path, you guys deserve a treat. Those of you who followed my Instagram might have noticed that I was a bit in alert mode lately as I agreed to make the wedding cake for my former Handball teammate and her husband. She asked me earlier this year and as her request seemed to be doable (no fondant fuzz, a pretty naked cake with seasonal berries), I said yes.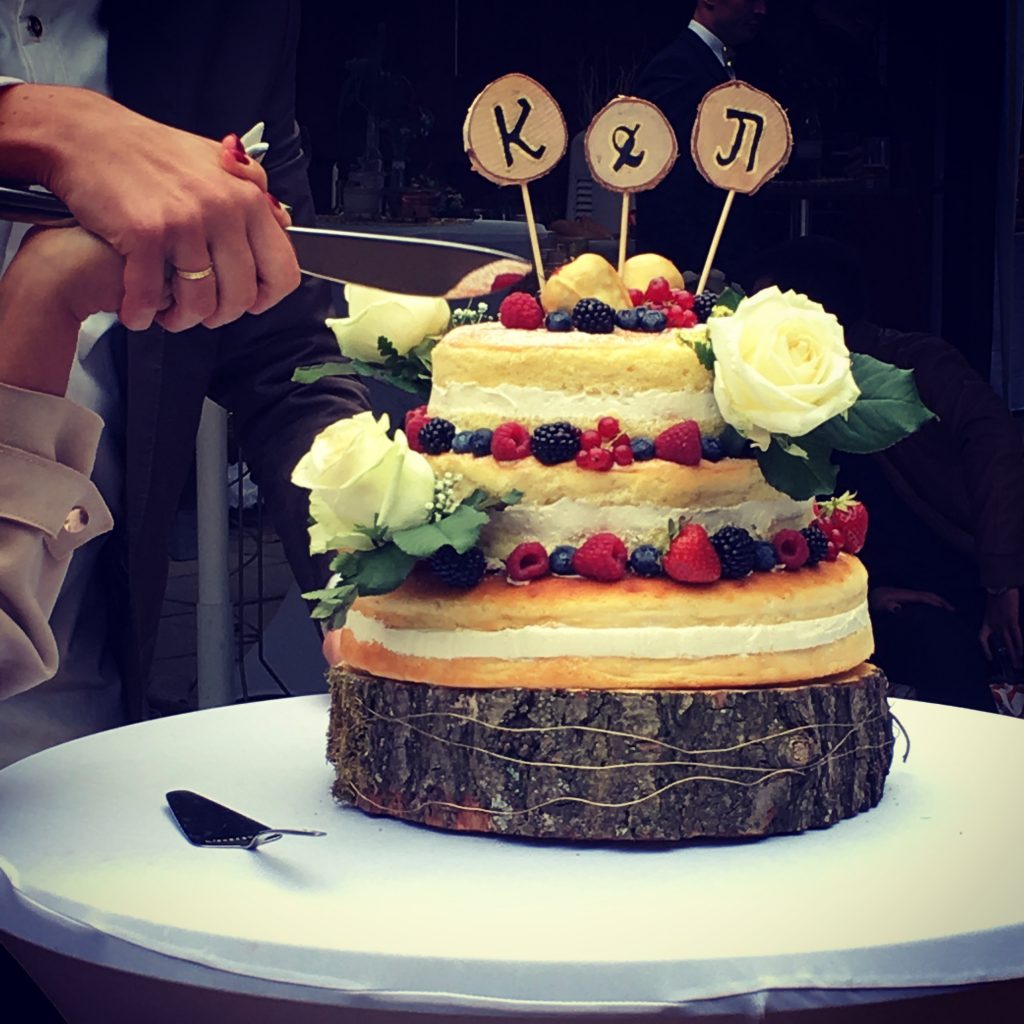 Long story short, I was a nervous wreck that day and the night before, my freakout luckily was cushioned by some dear people who calmed my anxiety, talked some sense into me and a nice bottle of craft beer. I had planned a lot of extra time, as it was my first ever wedding cake and I learned from past cake projects that things never turn out perfect when they need to be on point… I took the extra trip to the grocery store to get more eggs with a smile after one cake turned out bumpy, as well as another cake baking about 3 times as long as I had calculated in the bigger tin. I tossed a batch of curdled custard that couldn't be saved as it was way too flaky and even all my effort didn't help. I dismissed the horror scenarios of cake crash or drop, but I think for days I could only think and talk about cake. I tried to take it as Irish as possible ("It'll be grand!") and repeatedly told myself that I am capable of doing this cake, which worked pretty well because I knew that everybody else seemed to have zero doubt about it. Some may think I was phishing for compliments, but sorry to disappoint you, I am a master in not believing in myself and my abilities. Even if 20 people tell me that I can, it is hard to convince myself. Self esteem can't be forced, it can be learned, but it is a hard lesson and every oh so little bump in the road often results in huge setbacks. Enough of the detours, I got to get back to cake: The one thing I had no doubt about was the taste, I knew it was going to be delicious.
I had a little tasting with the couple a few weeks prior to settle the cake flavours and fillings. I made 3 different types of cake with a mix of new and old recipes, 2 kinds of buttercream and 3 different homemade fruit fillings to taste with them and to see how the components would do with heat (it had 32° C that day). We ate our way through classic Sponge with raspberry jam, vanilla cake with cherry jam and lemon yoghurt cake with lemon curd filling. Each cake was half filled with Italian buttercream and my own vanilla buttercream recipe. Also different techniques of filling (flavour blending vs. stacking) and decoration (straightened edges vs. natural press-out) were displayed and discussed. When they left we were all stuffed and had a plan…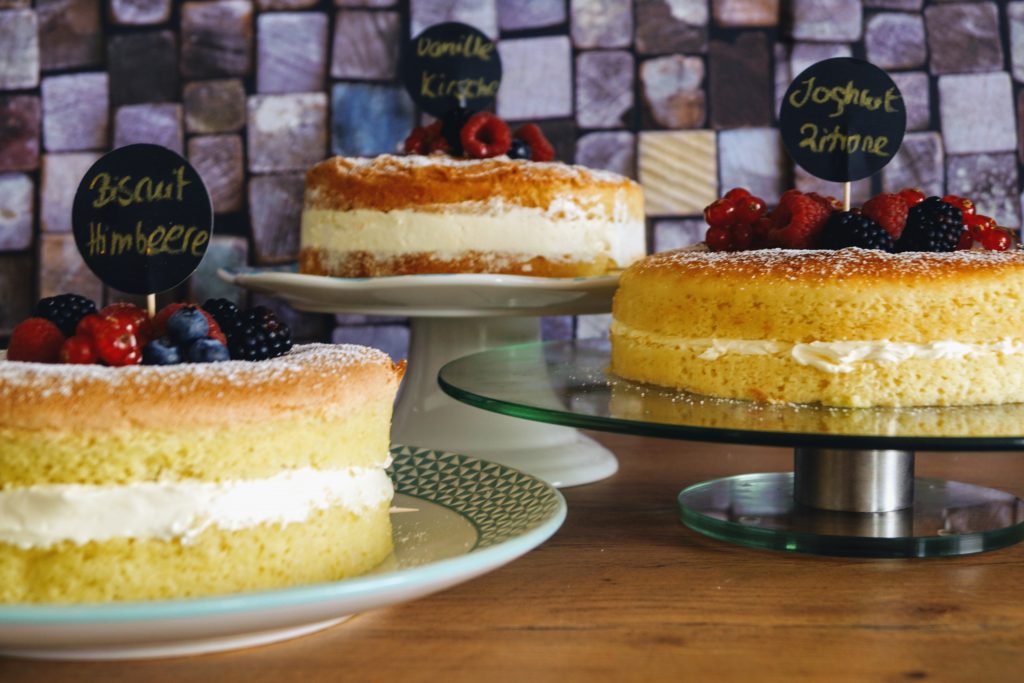 The tryout with the lemon yoghurt cake was successfull, the recipe direclty made it to the recall and with an adapted lemon curd recipe scored the big gig. It is moist, dense and tastes super fresh with the lemon and yoghurt. You can either drizzle it with some lemon juice or booze, confectioner's sugar or cut and fill it with lemon curd and or buttercream. Possibilities are endless, as always, and your imagination is the limit.
For a 20 cm Lemon Yoghurt Cake
225 g plain yoghurt
1 tbsp freshly squeezed lemon juice
zest of 2 lemons
175 g flour
1.5 tsp baking powder
a pinch of salt
50 g butter (at room temperature)
250 g sugar
3 eggs (separated)
Mix the sugar with the lemon zest, cover and let it sit for half an hour to spread the flavour. Preheat the oven to 180° C with fan and line a 20 cm round tin with parchment. Separate the eggs and beat the egg whites until stiff peaks form on medium speed, set aside to add to the batter later. In another bowl, whip up the egg yolks, gradually add in the flavoured sugar and the butter. Next up mix in the yoghurt and lemon juice to blend. Sift in the flour, baking powder, salt and mix to combine. Last fold in the stiff egg white, then transfer to your tin and bake in the oven for 45 minutes until an inserted skewer comes out clean. Let cool on a wire rack.
If you want to enjoy the cake unfilled, lightly dust with confectioner's sugar or poke little holes with a skewer and brush with lemon juice or some booze to take it to the next level. You can also cut the cake in the middle and fill with lemon curd and buttercream. My favourite lemon curd uses 3 lemons (zest and 160g of juice), 5 eggs, 130 g sugar and 110 g butter. Mix everything together apart from the butter, place over a pot with simmering water and slowly bring to a core temperature of 85° C. Strain through a sieve onto the butter, then blend together with an immersion blender, et voilá.
By the time I left the wedding party, there was only a quater of the last tier left, even though there were tons of other cakes. I take this as a sign I was right about the cake being delicious 😉