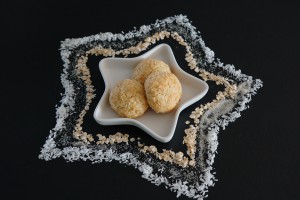 My phone gave me a little blast from the past this morning: On this day last year I was in my favourite town, living the good life with a christmassy food tour with French Foodie in Dublin. I have explained my love to Dublin with a lot of words last year, so I spare you a rerun. I rather share some thoughts on the wonderful Instagram photo challenge Ketty initiated with you. I must say I don't feel ready for christmas yet, but the #FFIDXMAS15 get's me there. So many beautiful pictures and so many creative people and it's only day 7. So thanks Ketty for being an inspiration and hosting this challenge. I am dying to see more pictures to inspire until Christmas.
As you might have seen already, todays Motto is "White" and as December is particularly warm this year (Sunny 13°C today), I let it snow myself with some oats and coconut. I picked up the recipe from my little sister some years back and I love how these cookies are crisp on the outside and chewy on the inside. For about 25-30 cookies:
100 g butter at room temperature
125 g brown sugar
1 egg
150 g flour
50 g grated coconut
50 g oats
1/2 tsp baking powder
1 tbsp each brown sugar, grated coconut and oats to roll cookies in
Mix butter, sugar and egg until creamy, then add the flour, coconut, oats and baking powder. Knead to a combined dough and let it rest in the fridge for half an hour.
Preheat the oven to 175°C without fan and line 2 baking sheets with parchment. Form walnut sized balls of cookie dough (I was feeling super exact and weighed them to exactly 18 gramms each) and roll them in the sugar-coconut-oat-mix before placing them on the baking sheet. Leave them a bit of room as they will spread while baking. Place one sheet in the oven and bake for 15 minutes until the cookies are golden, remove from the oven and let cool on a wirerack. Repeat with the second sheet and tadaaaa, quick and scrumptious christmas cookies.