It's no secret that Germany is the home of edible Christmas anticipation. I grew up with baking tons of Christmas cookies, Lebkuchen and Stollen during advent season, just like everyone else in Germany. Back in kindergarden and school we had baking afternoons and cookie recipe swaps and for our family christmas gatherings everyone brought cookies that were all different. One of my aunts always makes the largest variety of cookies, more than 10 types at least and so that you can eat through all of them in one sitting she makes them tiny miniature versions. I especially like her Florentine buiscuits. My other aunt made the hardest cinnamon stars I have ever had in my life, they even top the ones than my mother made once and almost chipped my teeth. The general pattern in my family is that we all make a variety of classic christmas cookies like butter cookies or cinnamon stars and some experimental new ones each year like coconut oat crisps. Be it my mother, sister or aunts, we all have that in common. The other thing I noticed is that with all our experience and preferences the same exact cookie can taste totally different like for example coconut macaroons. Even though recipes are often passed on between all of us, the outcome is never the same.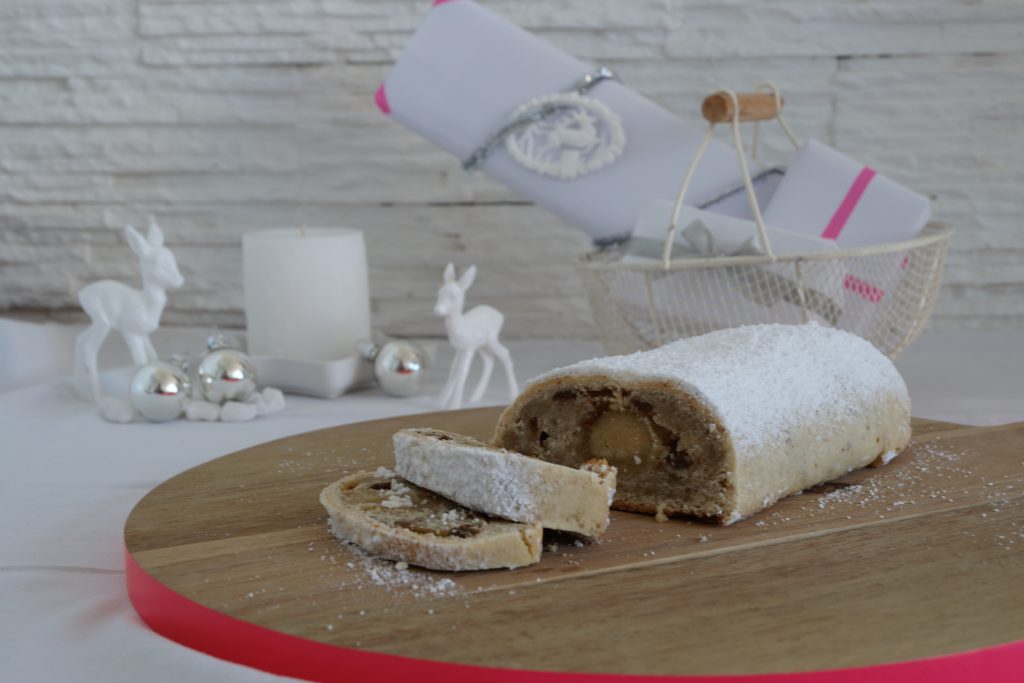 A bright example of that is the Stollen, a German fruit bread that can be baked in advance and can be stored for weeks. Stollen has a long history in Germany, it goes back to the 15th century. Traditional Stollen is made with yeast, however my mother makes one with Quark/Curd that is more moist and doesn't taste yeasty (which I don't like too much). A few years back my mother passed me the copy of her Stollen recipe and I made it myself for the first time. But I couldn't resist changing the recipe, like I do with almost any recipe I try out of books or the internet… Stollen contains dried fruit, such as raisins and currants, I even put cranberries once, and candied orange and lemon peel, which I find rather disgusting itself. So when I made my first Stollen I gladly let the peel out and added a core of marzipan to it. Over the years I have learned a lot, tried out a lot and brought my recipe to perfection*. I hope I can inspire you to try out yourself and enjoy a nice slice of Stollen underneath the christmas tree.
*Due to the current lack of oven I baked at my Sister's and my Stollen was not baked through completely as you might see in the pictures. On top I forgot to add the baking powder, even though she asked me if we needed it… That's what I get for not reading my own recipes carefully…
For 3 medium sized Stollen:
200 g dried raisins soaked with 100 ml each rum and water over night
175 g butter (at room temperature)
175 g sugar
2 eggs (at room temperature)
250 g quark (or the 0% Fage greek yoghurt)
1/2 tsp lemon zest
1/4 tsp Kardamon
1/4 tsp nutmeg
1/4 tsp cinnamon
500 g flour
1 tsp baking powder
150 g ground almonds
To fill: 200g Marzipan and 50 g minced almonds
Icing: 100 g melted butter and 50-100 g confectioners sugar
In order for the raisins not to burn in the oven, they need to be soaked over night. I prefer to give them a little flavour by soaking them in rum mixed with water. Throw the raisins into a jar, add rum until they are half covered, then fill up with water to cover, close the lid, gently shake to combine and let sit over night. I shake the jar in between so that every raisin soaks up the liquid.
As for all baking projects, a good preparation is half the magic. Make sure that you take out the butter, eggs and quark some time ahead so it can come to room temperature. Drain the raisins, catch the excess rum-water, you might want to add it to the marzipan core later, and also drain the quark/greek yogurt on 2 paper kitchen towels. Weigh all your ingredients and set aside, you can mix flour, baking powder and the spices directly, make sure you have a sief at hand for later.
Cream the butter in a bowl with the whisk attachement of your mixer, gradually add the sugar and keep mixing. Add the eggs one at a time and mix until fluffy and thick. Sift in half of the flour-spice mix and combine, then add the quark and do the same. Now it's time to change to the kneading hooks or the paddle attachement if using a stand mixer. Add the rest of the flour and combine. Last knead in the ground almonds to a non-sticking, elastic dough. If your dough is still slightly sticky, add another tablespoon of flour or two.
The assembly:
Once your dough has reached the right consistency (if you pinch it, it should remain in that shape and not feel sticky on your fingers) it's time to weigh your dough and divide it. Set 1/3 of the dough aside and preheat the oven to 175°C with fan. Add the rum raisins to the 2/3 of the dough and knead to spread them evenly throughout the dough. Soften the marzipan with your hands, you can knead in a little of the rum-water for more flavour, and form 3 rolls.
Roll out the third of the dough that doesn't have raisins to a large rectangle. We're using this plain dough to wrap our individual Stollen so that the raisins don't get burned while baking. This is a pro tip then I saw in a baking book and that has proven to be brilliant. Divide the raisin-dough in 3 parts, wrap each around a marzipan roll and add some minced almonds before sealing. Then cover with rolled out plain dough and shape into a bread-loaf shape, seal all edges smoothly and add a little pit in the middle over the full length.
Transfer all 3 loafs to a baking tray lined with baking parchment. Place in the hot oven and bake for 30 minutes. After 30 minutes cover with tinfoil or baking parchment and bake for another 10 minutes. During the last 10 minutes already melt the butter and keep a sief with the confectioners sugar at hand.
Once out of the oven, directly brush your Stollen with melted butter and ice with plenty of confectioners sugar. It should look like winder wonderland on your loaf, the sugar coat has to be a few milimeters thick. Once the loafs are iced, transfer to a wire rack to cool completely. Wrap the individual cooled Stollen in tinfoil and keep them in a metal cookie tin. Stollen "ripes" over time, so you might want to let it sit for a bit before enjoying it with a nice cup of spiced hot chocolate.