Happy New Year guys! I hope y'all celebrated in style with nice company and bubbles. After yesterdays look back on 2015 I am happy to share another forecast for 2016 along with a recipe with you.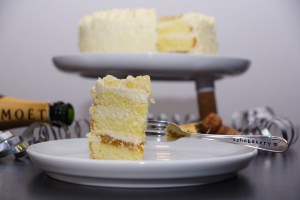 So what can you expect on Schabakery in 2016?
More Lunchboxes on my Instagram #lunchboxes2016
Extension of the To-Bake-List
A Blogroll and a Booklist
Some German posts
At least one post per month
A little review of events, fairs and trips
…and of course more Schabakery 🙂 Is there a better way to start than with a decadent New Year's cake with white chocolate, Mango and Champagne?! Hell no! So let's do this!